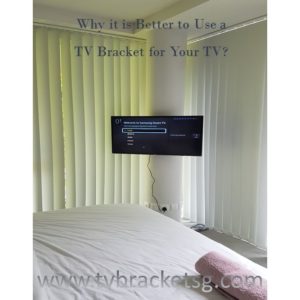 In today's generation, technology takes a huge part in our every day's life. Well, generally speaking, technology provides lots of benefits to every one of us and help us in many ways – and one of these is using a TV bracket in Singapore for our precious television. Yes, you read it right. Even our TVs need a certain thing that can protect itself from any damage, scratches, and bumps that might lead to damage or broken screen – or worse, broken TV.
Let's just say that you bought a TV for your living room and of course, you want it to be safe especially if you have children in your household or if someone visits you with a child. Then, using a TV bracket in Singapore will help you protect it against careless and active children.
In this article, we will discuss why it is better to use a TV bracket for your TV and what company can provide you a TV bracket in Singapore that is made of high-quality materials – without worrying much even if someone bumps it accidentally. Let's get started!
What is a TV Bracket?
First things first, you need to know and understand what is a TV bracket and how it is being used? A TV bracket in Singapore is a certain item that is specially designed to hold your television from hanging it on the wall. There are different types of TV brackets and each has its use and features according to your preference, needs, requirements, and liking. Before deciding which type of TV bracket in Singapore you will purchase for your TV, you must understand and know its features. Here are the following types of TV brackets:
Fixed TV Bracket – this will only allow you to put your television in one or single place.
Tilting TV Bracket – this type of bracket is for televisions positioned at a higher place for better tv viewing experience.
Full-Motion TV Bracket – from the name itself, you are allowed to move your TV in multiple directions.
Ceiling TV Bracket – this is suitable for televisions positioned at the ceiling and it is great for rooms with limited space.
Benefits of Using a TV Bracket in Singapore
Just like what we mentioned earlier, there are many benefits that a TV bracket can provide – and that is why a lot of people are settling to it and using it due to its benefits and advantages. One important thing that you must do and know is to only buy a high-quality TV bracket to make sure that it will hold your television and keep it secured and safe for years. Here are the following benefits of using a TV Bracket in Singapore:
Hanging your television on the wall will provide you a better TV viewing experience. With this tv bracket, you and your friends, colleagues, family or loved ones will surely enjoy what you are watching. It gives additional enjoyment.
Using a TV bracket will keep your television safe instead of using TV stands. Let's say that you have a lot of visitors and there are kids in your house. You cannot control their actions and might bump into your TV stand and your TV will get affected. Generally, TV brackets will keep your TV safe and secured against bumps.
TV brackets will help you save space. TV brackets are very useful for people who have limited space in their house. Instead of placing a TV stand or table and accumulate some the floor space, why not hang it on the wall and place other things in exchange with TV stands?
Using a TV bracket will prevent you and other people from neck and eye strain – you just have to make sure that your television is positioned at the right level and height.
Additionally, TV brackets allow you to move it to multiple directions.
Hanging your TV on the wall will also store wires and cables accordingly at the back of your TV.
What is the Best Company for TV Brackets?
As for the best and popular company in Singapore when it comes to TV brackets, the best one is the TVBracetSG. Aside from having high0quality TV brackets, this company also offers TV bracket installation service to ensure that your TV and TV bracket are installed properly. For more information, go to www.tvbracketsg.com!