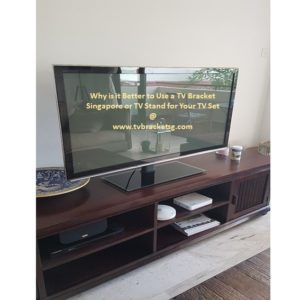 A lot of people are wondering if what would be the better choice – is it to use a TV Bracket Singapore or use a tv stand for your tv set. But there are things you need to put into consideration in order to know what would be the best option. Furthermore, to know more about which one is the best, you have to weigh both of the benefits it can provide so that you will be able to know which one is suitable for you.
Factors You Need to Put into Consideration
There are pros & cons to every alternative – and so as using a tv stand for your television set or using TV Bracket in Singapore. The following are the factors you should put into consideration if you will establish the viewing needs and requirements for your room.
What would be the size of your television?
What is the specific layout of your living room as well as the size of it?
Are you going to shift your television for any possible purpose when it comes to the viewing experience?
Are you going to change the layout of your furniture as well as its arrangement?
Pros of Using TV Bracket in Singapore
There are numerous benefits that TV Bracket in Singapore can provide and many reasons why you need to choose the TV Bracket in Singapore.
Pros
You can choose any tv related products from TV Brackets in Singapore.
Products from TV Brackets in Singapore can help you save extra space in your home.
If you choose to go with TV Brackets in Singapore, your tv will not be harmed or get damaged from any possible situations or equipment.
After you wall mount your tv, you can add up speakers to build home theater system.
Wall mounting the tv can add up design or style to your home.
Pros of Using TV Stand for Your TV Set
Using the tv stand is also a great idea or place where you can put your tv sets. It also provides you benefits to enjoy while watching movies, tv shows, etc.
Pros
Tv stands are perfect if you are having arrangements more often or play with a different setting in your house.
With tv stands, you can move tv sets easily from place to place.
If you want to connect extra components in your tv sets, you can do it easily with tv stands.
Either way can provide you comfort and benefits which you can enjoy while using your tv set. You just have to know which one is suitable and fit based on your needs – either TV Brackets in Singapore or Singapore TV Stands, it does not matter as long as you are comfortable with it.