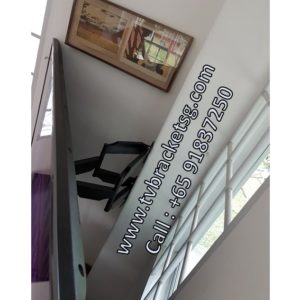 Who does not like to watch TV? Almost everyone, right! Most people do not care whether the TV is mounting on the wall or sitting on the table. However, you should consider mounting your TV on the wall for various reasons. It is not a bad idea to go for a TV bracket in Singapore. Here, find out some of the best reasons to get your TV mounted on the wall.
Save Space
It is the best reason for getting your flat screen TV mounted on to the wall. What is the point of getting a flat screen TV if have not mounted it yet? Placing the TV on a 20-inch wide stand, undoubtedly you are wasting a precious space of your living room. It is a kind of necessity to mount a   TV on the wall in small rooms or offices.
Aesthetic Appeal
Flat screen TVs have become a thing of style statement but not without a TV bracket. The wall mounting of a TV gives a more sophisticated and modern look to your living room. It appeals to the décor of your modern room. You can give a nicer look to your TV by hiding wires or cables nicely.
Reduce glare
One of the benefits of mounting a TV is to minimize glares from the windows and lights. With a full-motion TV bracket, you can reduce glares effectively. You can position the TV set as per your requirements to reduce reflections. So, a TV mounting gives you the freedom to adjust the viewing angle accordingly.
Safe
If you have pets or small children in the house, it is not safe to place your TV on a table. So, what can be the best option than a TV mount to improve safety. Mounting your flat screen on the wall surely gives you peace of mind in situations like these.
Easy installation
The mounting process of a TV is not much difficult if you go for our services. We just complete the installation process in a few simple steps. However, you can install a TV bracket on your own. If you face any problem, we are just a call away.
So, these are the different reasons why you need a TV bracket in the first place. As we stated earlier, the installation process may sound easy but actually not. So, choose our mounting services as well as modern TV brackets to enhance your viewing experience.