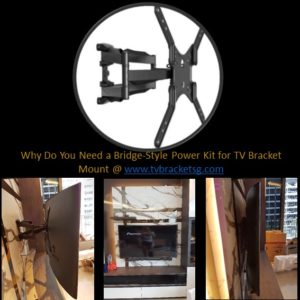 After spending extra cash for your newly bought television, it's now time to set it up. In Singapore, almost everyone is into wall mounting their televisions. Using a TV bracket in Singapore is the main trend and its benefits are what makes it so popular until now. Hanging it on the wall means the cords along with cables are too visible and messy in everyone's sight. Fortunately, you can do something about it.
Tying the cable wires and cords all at one may seem a solution, but running those behind your wall is the cleanest and best option you can do – the bridge-style power kit to be exact. Cords and cables that are too visible might be the cause of accidents in your household and worse, it might be the source of fire if your pet plays with it – and you don't want that to happen. Safety always comes first and hiding those wires and cables is the first move you have to do.
What is Bridge-Style Power Kit?
The bridge-style power kit or also known as Power Bridge simply provides power to the audiovisual equipment of your television. This bridge-style power kit mainly consists of two powers – the Power Outlet & the Power Inlet bridged through the conductor wire.
Why Do You Need to Use a Bridge-Style Power Kit for Your TV Bracket in Singapore?
Since many Singaporeans are fond of using TV brackets to wall mount their TVs, they also need a bridge-style power kit to hide those ugly cords behind the walls. Though some are suggesting to install additional electrical outlet, it is not the best thing you can do. If the new electrical outlet isn't located near your mounted TV, cutting through the wall is needed – and that means you are up for extra work.
If you do not have a new outlet beneath your mounted television, then using a bridge-style power kit is your best solution. You just have to plug the inlet directly to the electrical outlet or you can also plug it to surge protector.
What are the Requirements to Install a New Electrical Outlet?
Given the fact that you have mounted your television using your quality TV bracket in Singapore; and you want to opt out for installing a new electric outlet instead of using bridge-style power kit, you need to work on several things. Installing another electric outlet will require you to get a permit and this work also requires a licensed and professional electrician. Once the work is done and completed, you have to let the inspector inspect the entire work – and this means that it will cost you another extra cash aside from buying a new television and TV bracket in Singapore.
Some Situations That Will Require You to Use Bridge-Style Power Kit for TV Bracket in Singapore
If you are wondering which ideal situations that will require you to use a bridge-style power kit, keep reading below.
–    If you are planning to have an entertainment unit or component stand that will be placed below your television, then you have to install a power bridge. That way, your entertainment unit or even your component stand will hide the power inlet.
–    Installing a power bridge is also ideal above the fireplace so that there will be no wires near it.
Types of Bridge-Style Power Kit
There are different types of bridge-type power kits that will meet your preferences and requirements. But take note that every type of it have one thing in common – it's consists of two main parts which is the Power Outlet and Power Inlet.
–    Regular Sized Single Gang Bridge-Style Power Kit
–    Bridge Style Power Kit with Double Gang Wall Plate
–    Recessed Bridge Style Power Kit
Final Few Words
All in all, you have two options to hide the cords and cable of your television with TV bracket in Singapore. First, install another electrical outlet and ready yourself for additional work and some cash. Second, install a bridge-style power kit and simply forget about everything after you installed it. If you will buy a new television and TV bracket in Singapore, of course, you want the best, trusted and reliable company that uses high-quality materials for each product. Same goes for bridge-style power kit, you need to purchase it from the company that has a good reputation. And that company is no other than TVBracketSG. All products are made from high-quality materials and equipment. We also offer services related to television. With positive feedbacks, recommendations, and years of experience, we guarantee you that everything will be done smoothly and correctly.