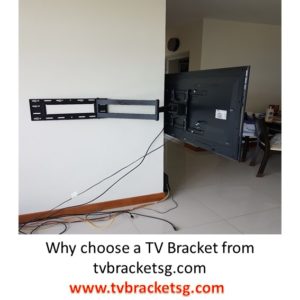 These days TV bracket in Singapore gaining huge popularity and they offer assembly and installation for all type of Plasma, LCD, LED, OLED, Commercial and Curved Display televisions. Professional installers are highly trained and equipped with high expertise and experience in the relevant industry. TV bracket Singapore offers you best consoles for your television, assemble and installation services.
TV bracket in Singapore offering their customers best TV-related products including fixed mount, full-motion console, tilting mount, table stand, ceiling mount, etc. Quality and durability of our products are robust.
Why Choose TV bracket in Singapore
TV bracket in Singapore strongly believes in the 4P principles.
Professional: TV bracket Singapore always provide professional advice to their customers. They are helping customers to select and choose the best TV stand/ TV bracket to cater for their individual needs. TV bracket Singapore understands their client's expectations and requirements very well.
Product: The TV stands and brackets provided by TV bracket Singapore are best in quality and they are durable for a long time. The most important thing that their products are safe to use for commercial and resident use.
People: TV bracket Singapore has a locally based team, highly experienced and very reliable. They assured, to deliver the best quality of workmanship.
Price: TV bracket Singapore has a reasonable price and low charges for their services. All products have a huge value for money.
Well Experienced
TV bracket Singapore is a highly friendly and knowledgeable professional's team, while it comes to fixing your TV Bracket in Singapore. Customer's fulfillment is our best priority and always exceed customers' expectations.
Affordable
TV bracket Singapore have the very affordable product range and it will never hurt you for buying a TV console from our company. Our all products are very reasonable and affordable for all types of customers.
Availability
TV bracket Singapore cares for the clients and available to help them any time, our team provides you same day appointment. TV bracket Singapore never disappoint and gives you the best services.
Conclusion
If you are looking for a TV Bracket in Singapore for your television choosing TV bracket Singapore is a good choice and makes a huge difference in all aspects than others. In Singapore there are no suppliers are available that a variety like TV bracket Singapore, our product line-up contains Fixed brackets, Floor stands,  Tilting Brackets, Full motion television Mount, etc.