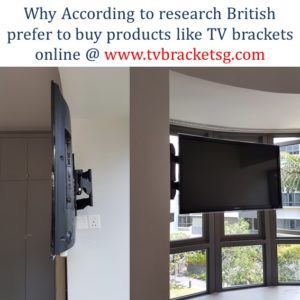 Since televisions are getting bigger and bigger by the day, it could be immensely useful to mount your television on the wall to save some space. There are many individuals and companies that offer installation services; however, there is one star in the field, which is TV Bracket in Singapore.
Versatility:
TV Bracket in Singapore is extremely versatile when it comes to bracket installation. They will be able to provide you with tons of different ways to mount your TV, including swivel wall mounting, and many others, especially if you're someone who enjoys watching TV at a certain angle or have an odd wall which you would like your TV to occupy.
They also happen to offer ceiling TV mounting. To facilitate your purchase experience, they offer a comprehensive buying guide on their blog online which can tremendously help if you're still hesitant and do not know which TV bracket to purchase.
In addition to that, they offer a variety of colors and designs. If you want a certain piece that goes with your décor scheme, reaching out to them is your best option, as there are many things to choose from. They also offer other services, such as concealing the wiring cables that may look unattractive, which is a great plus if you are someone who pays attention to aesthetics. They also offer stand styling tips, so if you are ever in a pinch, you can count on them.
Professionalism
It can often be quite tiring to find freelancers or companies that are really experienced at installing TV mounts, and this where TV Bracket in Singapore comes in. They pay attention to the tiniest of detail, which will ensure that you have the best experience.
They will do things like helping you choose a spot for your TV, testing if the wall is strong enough for the TV to stay mounted on. They give you advice regarding the angle in which you want the TV mounted in to ensure the best TV watching experience ever, and help you with the wire concealment, which can look extremely messy when left out in the open.
Installing TV brackets is not an easy task, as many would imagine. It requires a lot of planning beforehand, throughout the process and even after putting the brackets and installing the TV. It is better to hire a professional for this task, to make sure that you're not going to face any problems after the process.
Extensive Knowledge
It is not surprising that TV Bracket in Singapore possess a huge amount of knowledge on TV brackets, as it's their specialization. With their blog offering numerous articles on TV mount installation, it sure is a gold mine for those who are lost or do not know where to start. TV Brackets in Singapore will aid you with choosing the best brackets to support the weight of your TV, to ensure that neither your TV nor you will go through any accidents due to faults in installation.
Additionally, they can help by offering you tips on the key features of each TV bracket they offer. They also offer a follow-up service where they will give you diagnosis for any problems that might arise with your TV brackets.  Moreover, they will offer consultation regarding the size of the TV bracket. So you do not have to worry, because even if you own a TV set that's larger than usual, they will have options to accommodate your needs.
In conclusion, these reasons should be more than enough to convince you to hire professional help, and to choose TV Bracket in Singapore when doing so. Hiring professionals in the field helps you decide and choose the right place for your TV. It will also make sure that your TV is mounted difficulty to avoid any technical difficulties in the future, which will you make your TV experience even better. Last but not least, you will have a number of knowledgeable and experienced professionals at your service. They will recommend the best options to you and with your guidance you will be able to rest assured that you are going to get the best of the best.
So, don't hesitate and choose TV Bracket in Singapore now. If you have any questions or would like to inquire about a certain issue, don't hesitate to visit the website, which is at: https://www.tvbracketsg.com/blog/ . Will always be in your service, no matter what, no matter where.