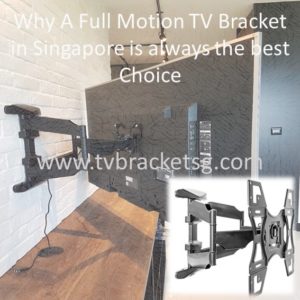 These days almost everyone who owns a flat-panel television knows about the advantages of its ultra-lightweight and thin size. More so, as modern technology is advancing at a very rapid pace, these flat-panel designs have evolved into curved designs that are more appealing to the senses and present a crisper and clearer picture.
One of the most important perks of having such a TV is the ability for the user to mount it directly on the wall in any place in your home or office. It is here that the full functionality and convenience of having a Full Motion TV Bracket in Singapore comes into use.
A Full Motion TV Bracket is, as the name suggests, multidimensional in its range of movement. This means that you can set up your TV allowing it to move towards or away from the wall. You can also tilt your flat panel TV up or down depending upon whatever viewing angle suits to your desires. Another advantage of having a tilt function is that sometimes in brightly lit rooms or where the TV panel is set up beside a window, the bright light or sunlight can shine on the screen of the TV causing a glare that can drastically reduce visibility. Using a Full Motion TV Bracket, you can control the level of glare that projects from the TV screen by tilting it away from the direction of the light beam.
Bring Out your Inner Creative Side
This type of full range TV Bracket in Singapore can also bring out your inner creative side and allow you to mount it in such a way that you can even hide it making it look like a mini wardrobe. Whenever you feel like using it, you can use the full functionalities of the Full Motion TV Bracket to easily extend it towards yourself and enjoy watching that favorite program that you had put off for so long. Moreover, you can stop worrying about where to place your TV. Having it mounted on the wall with full motion will definitely bring out a certain type of aesthetic quality that will blend in nicely with your room or office environment.
Cost
Bear in mind that a Full Motion TV Bracket is more expensive than other types of TV wall mount and may require assistance in getting it installed on your wall. However, with all the benefits of having such type of a wall mount and most of all the sheer advantage of its convenience will never make you regret your decision of having a Full Motion TV Bracket that is worth your every penny.
Visiting our website   https://www.tvbracketsg.com/ might be rendering you the best installation service, purchase and solving of various installation problems that might arise. We make it clear that before embarking on this task, you will need to pick the optimum TV bracket for what you desire, some Brackets might not be the best you need and some you might not also be able to use. We have been one of the most trusted company and registered with not less than 6 years of sincere training and activities and in a nutshell, our professionalism is unbeatable.