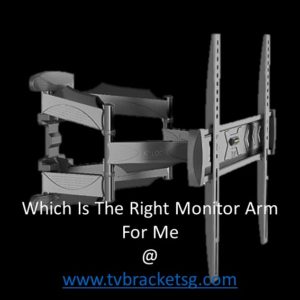 The work environment has drastically changed over the years. People are demanding for more ergonomic solution that will improve their working standards and boost their performance. While we have seen so many options come and go, monitor arms seems to provide a long-term solution to this quest. Having a monitor stand with an articulating arm is one of the effective ways to overhaul your work station and make it much more conducive for work. Tv bracket Singapore advices going for this option as it is a very simple tool which aims to make you feel better as you sit and work from your workstation.
Why Do You Need An Ergonomic Arm?
With a lot of options out there, it can be quite challenging to find the right monitor arm for your monitor and workstation. With the regular arm that comes with most of the monitors, they usually do not have any adjustability feature, which makes the users struggle so much at their work stations, which results in poor posture and hence so many health issues.
A good monitor arm will let the user position the desktop in the eye level, help him tilt the desktop in an angel comfortable to him. He can also play with the desktop, that is, swivel it back and forth just to find the right position that he is comfortable with. These are powerful adjustment features that can only be found in an ergonomic mount. With such features, it makes it possible to work effectively and efficiently.
Things To Look For In Your Choice Of Monitor Arm
VESA compliance
Whenever shopping for a monitor arm, it is always good to check whether it is compliant with the Video Electronic Standard Association. Surprisingly, a good number of people never pay attention to this, they over look it. Nonetheless, most of the television ergonomic solutions in Singapore are VESA compliant. However, when shopping for your arm, make sure that the monitor is VESA compliant. Being VESA compliant means that the backside of the cabinet features standard hole pattern used for mounting and easy attachment.
To know whether your monitor is VESA compliant you need to check the backside of the cabinet and look for a hole pattern. Some of the monitors in the market will hide the VESA holes meaning that you might have to take it off from the stand.
Your workstation specifics
This is one other consideration you have to make before going for the ergonomic arms. Something like your monitor's weight is a really important consideration you have to make before actually installing your arm. When choosing your mounting solution, whether a fully adjustable mount or a fixed wall mount, it is really important to let the monitor weight dictate the results of the equation.
Weight obviously tells whether the mount will be able to support the television or the monitor. Tv bracket Singapore advices that before mounting, check the arms specs in the product description.
The number of monitors
There are times when you need to mount, not one but multiple monitors in the same work space. In such a situation, you need to check whether your arm has the capability of supporting more screens. Tv bracket Singapore has mounts arms, such as the gas strut arm that comes in single and dual packages meaning that you can be able to support two monitors from the same arm.  A dual arm is quite impressive and goes a long way to improve the productivity of the people in the workspace. There are also some mounts that have better adjustability than the factory stands.
Desk depth
This is the other factor that dictates the choice of your monitor arm. At times you may be forced to get the mounting arm with an articulating arm which long enough for a wide range of adjustability but can also fold nicely when you need to save up space on your workstation.
All these are factors that dictate the type of the monitor arm. However, unlike the regular mounts, monitor arms require a very firm base where it will be immovable, support the monitor well as well as allow the desktop adjustment.