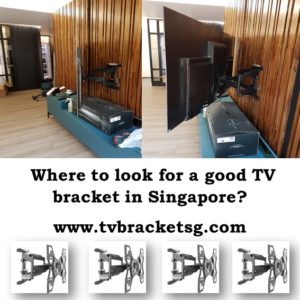 One of the major advantages of flat screen television sets is that its thin depth and light weight allows you to perfectly mount the TV set directly on the wall in your home. While most flat screen TV sets are already manufactured with pedestals and can be placed on a TV stand without any issues. But with the help of a TV bracket, you can easily save space and improve the overall aesthetics of your room.
Which TV mount is right for my flat screen TV set?
Before deciding on the brand of TV bracket, you need to decide what kind of movement you would like to have. TV brackets are divided primarily into two groups – fixed and motion TV mounts.
As the name suggests, this type of mount will hold your TV set against the wall in a snug manner. This mount also keeps the TV closer to the wall than other types of mounts, thereby giving your TV set a very custom and clean look. But one notable disadvantage posed by fixed TV mount is that you cannot adjust the viewing angle and position, whatsoever. This mount is perfect for rooms where people will be viewing the TV from one direction and position only.
There are two types of mounts in this category as well – one that allows certain movements (horizontally, vertically, etc.) and the other that allows the greatest range of movements (horizontally, vertically, tilting, etc.). But one common aspect between the two is that both types of mounts allow you to adjust the TV screen according to your preferred viewing angle. This makes it perfect for rooms where people that are viewing the TV are seated at different positions and angles.
Benefits of a full motion TV Bracket
TV brackets that do not swivel have a lot less value than those that do. A full-motion TV bracket is fitted with a swivelling function. This is useful in cases where the TV is fitted far away and you can make use of the bracket's arms to extend the television to your comfortable viewing angle and position.
A full motion TV bracket is basically a TV mount that is versatile and can be adjusted to many different viewing angles and also swivel around. These TV mounts have a lot of advantages, which we will be checking out below.
Advantages of full motion TV bracket
Allows you to tilt the TV set upwards or downwards
For a better viewing angle, this type of TV bracket allows you to tilt it upwards and downwards. You can adjust the horizontal viewing angle by moving the flat panel away from the wall physically. This type of tilting is common in scenarios like bedrooms (tilting downwards) and airports or restaurants (tilting upwards).
Gives your room a neater, cleaner and futuristic look
Once you mount your TV set on a full motion TV bracket, you will have more ways to hide those hanging wires behind your television. This gives the room set-up a very futuristic look and presents a neater and cleaner front to your guests. No longer will you have to deal with positioning your TV and manage tangled wires.
Opens up more possibilities for creative TV installation
With the help of a full motion TV set, you will enable many viewers to adjust the angle of the TV set according to their seating arrangement. You also have the option to hide the TV into an armoire and extend it outwards later very easily. But, it is important to make sure that your video and audio cables are long enough to reach the sockets of your flat screen television set.
As you see, a full motion TV bracket is the best type of TV bracket Singapore that you can invest in. Not only you have the option of viewing your favourite movie or game night at any angle, but you can also access the back of the appliance to access any port or streaming device.
We provide some of the most robust constructed full motion wall mounts at competitive prices. This price range also includes installation charges. So, if you are thinking and considering installing this type of TV bracket, look no further and contact us immediately.