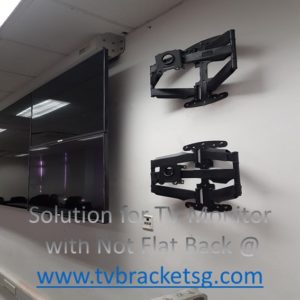 If you're planning to buy a, you have to do your research and no all about them before making your final decision. This is because there are many similar products that can offer you a lot of benefits. You have to be very intelligent in choosing the right TV bracket in Singapore.
Here are some of those things that you need to know about Singaporean TV brackets before buying them.
Different TV Bracket Characteristics
The Size
First, you ought to know that these TV brackets vary not only in terms of design and function. These products all vary when it comes to size. The size of your TV bracket can depend on how much weight it can hold. In this regard, smaller brackets can hold smaller TV sets as well.
The flexibility and distance by which the bracket functions efficiently is also something that can differ depending on the entire design of the product itself. Articulating brackets can definitely function to angle the TV much more extensively than a tilting TV wall mount for example.
The same goes for fixed TV wall mounts as well.
The Designated Weight
As mentioned earlier, the weight of the wall bracket should be a consideration when buying it as well. The heavier the wall bracket, the better it would be for support. Buy a bracket that would be heavier than the TV you are trying to mount.
The Specific Materials
In addition to this, the materials used to create the wall brackets should also be thought of when buying the product. The wall bracket materials should be durable enough to last for years. You can save more cash this way.
Metal brackets are far more robust and long-lasting than plastic ones for sure. Consult our website for more information regarding the different materials used to treat a TV bracket in Singapore.
The Walls and Additional Installation Accessories
You should also think about your walls before buying the brackets. Most TV wall mounts and brackets are compatible with dry walls. They usually also come with different accessories that can help you install the mount effectively. These are as follows:
Metal bolts
Drywall anchors
However, if you're going to install your brackets onto plaster or masonry walls, you would need stronger trinkets that usually don't come with the TV wall mount package.
Don't worry. Additional accessories for your television wall mount can be found in your local hardware store. Just take a short trip to your favorite hardware to get the materials.
Our company can give you detailed information about the different types of walls that you can certainly mount your TV on. If you're not sure about your specific wall material and what kind of implements you can use to compliment the bracket, do visit the website for more information.
The Location
This is another factor that you should consider before buying TV wall brackets. You can't just place your TV anywhere in the house. If you're going to mount your TV onto the walls, make sure that your chosen location will be able to accommodate this new appliance efficiently.
Major Things to Avoid When Choosing the Right TV Bracket Location
Take note of the size of your TV. If you feel that the planes could be a bit cumbersome for the wall, do not place it there.
As much as possible, do not place it over the fireplace. The heat and embers from the fireplace can surely affect the mechanisms of the television set down the line.
If you want to save some space, it would be best to choose a smaller flat screen TV. This way, you won't have to occupy the entire wall.
Main Demands on Customers Side
At the same time, if customers need the services of the company, the workers will come to the place and help in adjusting and fixing the TV.
Different sizes and shapes are available
Different color scheme are available
Different lengths are also there
Durable and flexibility of the product is guaranteed
Occasionally, customers are very choosy, they look into the product and want best. It is always remain challenging for TV Brackets to have to happy the customers. If you see the rates of their TV's are as compare to the other shops in the market, you will come to know that a clear difference.
Conclusion
Now that you know everything with regards buying TV brackets, you should not have a hard time making the final choice.
If you want more data and professional help with installation or to learn more details about purchasing a TV bracket in Singapore, do not hesitate to contact TV Bracket SG as soon as possible.