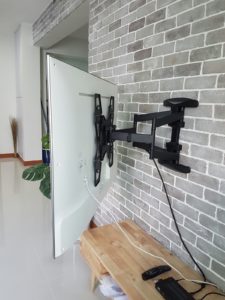 The answer to this question lies with answers to few other questions! For instance, "Where would you be using your TV?", "From where do you usually watch TV- A sofa or a bed maybe". At TVBracketsSG, we can help you choose the best TV mount according to your needs. Thanks to our comprehensive range of TV Brackets, we have been able to cater to a wide customer base fulfilling their specific requirements.  Explore our range to enjoy the best TV experience at your home or workplace. We will be delighted to assist you in selecting the perfect TV bracket. You might however want to study the salient features of each type.
Fixed Mount
The Fixed Mount range is what is commonly known as the 'Low Profile' TV bracket. It is so called since it is almost completely hidden by the TV. At the first glance one wouldn't be able to tell if there is any bracket attached to your TV. This type of bracket is also the most popular type of bracket in the market.  As these are generally installed high on the wall, a Fixed Mount is perfect if you have children and pets at your home, who often accidently knock off TVs placed on shelves and stands. Fixed Mount is easy to install and remove and costs very less. At TVBracketsSG, there are three distinct models in the fixed bracket range:
Small:  Suitable for 17" –  37" screen sizes, load capacity up to 40 lbs.
Medium:  Also Suitable for 17" – 37" screen  sizes, load capacity up to 40 lbs.
Large:  Suitable for 40" – 65" screen  sizes, load capacity up to 150 lbs.
These are some of the hits and misses that can help you decide on the type of bracket to choose
Cost effective and the cheapest of them all
Hassle free and quick installation
Is low profile, does not stick out so the décor of the surrounding is preserved
Works fine for most places especially bedrooms and living areas
Looks flush with wall due to the 29mm gap between the wall and the TV with our mounts
Lacks any adjustments post the installation
Viewing angle is fixed
Sticks too close to the wall, might restricts the performance of a TV with rear speakers
All fixed brackets at TV Brackets Singapore are VESA compliant. You don't have to worry about the compatibility of your TV with our mounts, as all TVs made since 2005 are VESA compliant. Be assured of quick and high grade installation service at you home, business or workplace when you purchase any of our TV brackets.