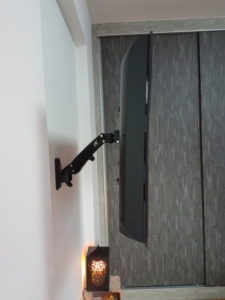 The decision to purchase a wall mount or a TV brackets in Singapore is not an easy one. When looking to buy a wall bracket, you will be met with multitude of different choices which include but not limited to the VESA standards and Sizes, the Universal brackets, the flat, tilt, full motion and so many others. It gets even harder and you can get lost trying to figure what you need for a TV bracket.
The TV Brackets In Singapore
Depending on where you would like to fix the wall mount you will find that there are different types of the wall brackets in Singapore. These includes;
Swivel, moveable
Fixed, low-profile
Tilt
To choose the right mount for your TV, you have to first of all decide what kind of movement you would like your TV to have or if you wouldn't like any movement, the fixed position may do. You have to ensure that the mount that you chose is of the right weight and size and that will entirely depend on your TV. The major brands for the TV brackets in Singapore usually list the suggested weight limits of their mounts.
Always measure the standards
Most of the times, people just go to the market and shop for the TV brackets without really knowing that the standards do matter, a lot. Therefore, before even going shopping, the first thing that you need to do is measure the standard [VESA standards]. These dictates the type of the bracket that you need for your TV.
Weight and size of your TV matters
The weight and the Size of your TV also matters when it comes to the TV bracket in Singapore that you need. Basically, you will find that at times, you have bought a bracket and after installing it, the TV remains saggy, or too tight rendering the TV too rigid. Therefore, before making the big purchase, it is important to consider the size and the weight of your TV.
Do budgeting
This is an issue that most people leave out but it is a consideration to make. When shopping for the TV brackets in Singapore, it is important to make sure that your budget or the bracket fits your bill accordingly. The flat brackets are the cheapest while the swivel brackets are somehow expensive. This is the information that you need to be having before going to shop for the brackets.
Conclusion
Your taste with the bracket dictates what you need in the long run. Before shopping for the brackets, know what you want your TV bracket to look like. At TvBracketSG we have a wide variety of quality TV brackets to choose from.