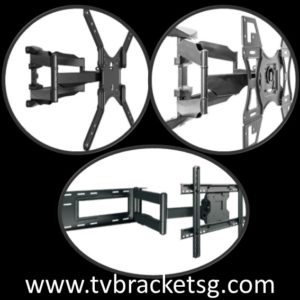 If you have decided to mount your television, by now, I am quite sure that you have noticed that it's not an easy task, maybe as you had previously thought it to be. Most of the modern television sets, in fact, all of them come with more advanced features than the old sets and one of these features is the ability to mount the television on the wall. And this has a lot of advantages, which we will cover later on.
When looking to buy a Tv Bracket in Singapore, you will have very many different and diverse options which might confuse you. Given the rapid pace by which technology is evolving, it wouldn't be surprising to find different television brackets and their modified version in the same market. So, before making the purchase, we advise our customers to have the right information and knowledge of the available TV brackets in Singapore.
What are TV Brackets?
For those of you totally new to this concept, lets first understand what a bracket is. According to Wikipedia, a bracket is an architectural element: a structural or a decorative member that can be made of wood, stone, plaster, metal or any other media. The bracket projects from the wall, usually to carry weight and at times to strengthen an angle. So basically, a bracket is just an architectural element that is designed to support the television on a wall. Depending on where you want to mount or "hang" the television, you will find that the market is awash with various television brackets. We shall get into this later on in the article so keep reading.
Television Sets that can be Mounted
Now that you understand what a bracket is, the question that you may be asking yourself is, can all televisions be mounted. Technically, yes! While I am quite sure that I might come under heavy fire from enthusiasts in this field, I would like us to really consider what a bracket is, it's just an architectural design meant to support something. So, I believe almost any television set can be mounted on a wall.
However, today's television sets are ultra-thin and they come with provisions that allow them to be mounted on a wall. Basically, every flat screen television was designed to be mounted on a wall, why, let's do this practice! If you look at the back your flat screen television, you will realize that it has four distinct holes which are placed at a unique distance from each other, these holes are what we use to mount the television successfully on the wall. Without them, we can never be able to mount the television on the wall.
So basically, the television sets that qualify to be mounted on the wall are the flat screen television sets, but essentially, every television can be hanged on a wall, let's get the difference. There is mounting, and hanging the television on a wall. Mounting is fixing the television on the wall.
The Type of Bracket You Need
Well, here at Tv Brackets in Singapore we have a variety of television brackets and mounts but the question is, what are you looking for? You will find that there are a variety of Tv Brackets in Singapore and all seem good, but what is your end goal? And what type of a wall mount are you looking for?
In the market, we will serve you with different television mounting options. But before that, let's get into the three categories of television mounting.
Fixed Television Mounting
Just as the name suggests, a fixed TV mount does exactly what it does! It fixes the tv statically on a wall, in a single position. These are the most popular Tv Brackets in Singapore on the market. The good thing with these types of brackets is that you can get the television as close to the wall as possible.
Tilting Television Brackets
Opposite to what a fixed television bracket does, the tilting television brackets allow movement. These brackets allow the mount to tilt either side by side or up and down at a fixed angle so that the television can be seen better. These are better and good when the TV is to be positioned at a relatively higher position than the normal viewing point.
Full-motion brackets
These are the modified version of the tilting TV bracket that allows the mount to move in almost every direction. With these mounts, the TV can be made to move out to and from the wall. It offers flexibility and allows the viewer to watch the tv from all angles and directions.
To sum up, when shopping for Tv Brackets In Singapore, especially for the new buyers, make sure that you not only consider the price but even the tiny details like the mount style. But TV brackets are the most advanced and specialized form of mounting a tv that will give you comfort when watching and guarantees security.