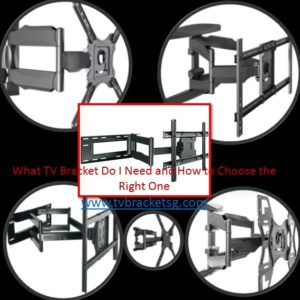 Using a TV bracket in Singapore is becoming more popular over time. And if you have finally decided to hang your television on the wall for a more enjoyable viewing experience or even wanting to save extra floor space. The best thing you can do is to wall mount you're TV – it is truly a space saver! Before you go on to this task, even if you are great on doing a DIY task, you have to spend some time when choosing the perfect TV bracket for your television.
There are many TV brackets in Singapore as well as in the market, and not all are suitable for you and your needs. If you will choose TVBracketSG to install your TV bracket, we will surely pick the best and perfect TV mount for you. We have many types of TV brackets and surely, it can meet your need and requirements for better viewing experience.
Different Types of TV Brackets in Singapore
TV brackets come in different designs and types. The most popular TV brackets for televisions are Fixed TV mounts, full-motion or articulating TV mounts, and tilting TV mounts but there are other types of TV brackets which allows your television to hang to a ceiling.
Fixed TV Wall Mounts
This TV wall mount is literally what its name says. A television is positioned on the wall in just a single direction. These fixed TV wall mounts are very popular among the other types of TV brackets in Singapore. The good thing about this is that you can have your TV close to the wall as you want and the cables and cords are properly managed. However, if you choose this type of TV bracket, you cannot adjust it to every position you want.
Tilting TV Wall Mounts
This type of TV mount allows your television to be positioned vertically, but it cannot allow any movements horizontally. It is recommended if television is mounted higher than the normal height of TV position such as near the ceiling or over your fireplace. Tilting TV wall mounts also allow you to control the glare from our windows or the room lights.
Articulating or Full-Motion TV Wall Mounts
This type of TV mount offers the most flexibility among all the types of TV brackets in Singapore. From the name itself, it allows you to turn your television in multiple directions, whenever you want. With this type of TV mount, you can move your TV away or towards from your wall, tilt it upwards or downwards, and move it from one side to another. Full-motion TV wall mounts will surely comply with your viewing requirements.
Its name says it all – no further explanation needed. A ceiling TV mount will be placed on the ceiling and is perfect if you have a tighter or limited space in your room or area.
Things You Need To Check Before Buying a TV Bracket
We know the excitement that you are feeling to finally set up your TV. But you should be careful when choosing your TV bracket as well as consider some things that might affect your options. Here the factors and things you need to check before buying a TV bracket.
The total weight of your television.
The maximum size of your TV.
The distance of each fixing holes that can be found at the back of your television.
VESA pattern
Do It Yourself or Hire a Professional?
One of the most important aspects of installing a TV bracket is the person who will be installing it. Though you can do it on your own with someone who will accompany and help you, it is always far better to hire someone that has a profound knowledge about it. Hiring a professional also assures the safety of your television, yourself, and members of the household. Furthermore, leaving all the work to a professional will give you peace of mind.
Final Few Words
In buying the best TV bracket in Singapore, you must comply with the features and physical status of your television as well as your TV viewing requirements. Furthermore, it is always advisable to buy the durable and sturdy one as it will hold your TV for a long time. TVBracketSG offers a wide variety of TV brackets as well as services to hire someone who can install it for you. With years of experience in this industry, all people in our team, already know how to handle the different situation and even the most serious problem that might occur.