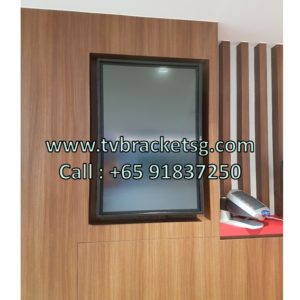 TVBracketSG are dealing in perfect and quality TV bracket in Singapore in order to create a great way to mount your televisions in such a way that blends with the interior design of your home. What makes the perfect TV bracket Singapore from us is the ability to save space; safe and secure, adjustable viewing angles, guaranteed to support the weight of any television, and sturdy mounting to protect your television.
All our numerous customers always share positive experience about our products and services and even adjudged us as the best supplier of wall mounts and TV brackets in Singapore.
TV Bracket Singapore is Guaranteed to Support the Weight of any Television
 No matter the size and weight of your television, we have a TV bracket Singapore for it at TVBracketSG. In addition, these TV brackets Singapore have exceptional resistance to movement with their powerful construction. Our wall brackets are well-engineered to hold your TV at any height. It comes with quality and sturdy build. Quite a lot of ideas are invested into our TV brackets to make them long-lasting.
The Ability to Save Space
Our TV brackets saves space because we are mostly concerned about how homeowners could make better use of the available interior space. We will make sure your elegant home with stunning fireplaces retains the focal point of the room. Hence, using our TV wall bracket to mount the sleek technology of your flat panel television over the mantle will look like an aesthetic match made in heaven.
TV bracket Singapore from TVBracketSG is a permanent solution that would keep your TV fixed in a well-located, visible place in the course of saving as much space as possible.
Safe and Secure
Another great thing about our TV brackets is that they are safe and secure. You don't have to worry about safety because they are sturdy enough to accommodate the size and weight of your TV. In addition, we have professionals who will install it in a safe place for a wonderful viewing experience.
Sturdy Mounting
Our team of experts will give your TV bracket sturdy mounting in order to protect your TV from falling off. TV brackets from TVBracketSG will provide the great-looking aesthetics of an on-wall mount and they are the utmost way to enjoy video games, movies, and TV programmes without straining your neck.
Customer satisfaction is always our watchword at TVBracketSG and we are happy that we are able to satisfy the particular needs of our loyal customers in the process. Our numerous product lineups make us second to none and stand out from the crowd as far as quality TV bracket supply is concerned in Singapore.
What are you still waiting for? Get all your TV brackets Singapore supplies and services from TVBracketSG today!
Visit our site at https://www.tvbracketsg.com for further details or contact us today at https://www.tvbracketsg.com/contact-us/ or Call / SMS / Whatsapp : +65 9183 7250 for further information about our products and services.
You can also send an email to: enquiry.tvbracketsg@gmail.com for more enquiry about our products and services.