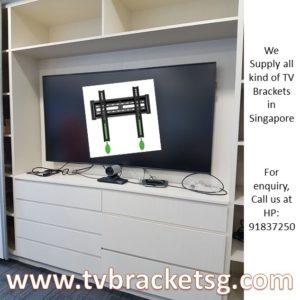 Hiring a good and specialised local TV bracket Singapore Company is an easy and efficient way to get your TV installation projects executed if you have just bought a new flat screen television in Singapore. You need a professional company like TVBracketSG for your TV mounting services in order to avoid the hassles associated with TV wall mounting.
TVBracketSG teams of professional are technicians you can trust at all times with excellent service in mind, executing your TV mounting project as if it is their personal project.
Attributes of Good and Specialised Local TV Bracket Singapore Contactors
References
Any top-quality TV bracket service in Singapore should be able to provide you references on demand. These are customers the company has previously worked for. Once they have supplied you with the list and contact information of these clients, get in touch with each of them to obtain information about their experience with the local wall bracket installer.
Find out about their expertise regarding the quality of service. Moreover, find out about the cost, timeliness and their overall know-how. Ask whether they will use the company for future assignment or not.
Business Stability and Expertise
Good local wall bracket installers must have a wide range of TV bracket installation experience. To do this, they must have been in the TV bracket mounting business for a long period of time. On the other hand, they must be able to solve different types of wall mounting problems.
Satisfaction Guarantee
The technicians of good TV bracket contractors will ensure satisfaction as they will make sure they get your job done right the first time and will save you both money and frustration in the long run.
Affordable Pricing
This is another major area of a TV bracket Singapore contract. A reputable company like TVBracketSG will give you honest estimate, depending on the nature of the service provided.
Free Quotation
This is also another important factor that makes a good TV bracket contractor. With free quotation, you will be able to know the upfront costs of the entire project to avoid being shocked with a high bill at the end of the project.
Safety TV Mounting Record
When it comes to a TV bracket contract, safety is an important factor. As a result, request for safety records from the local TV bracket contractor to make sure that they have a suitable safety record. This will also make you understand that these wall mount installers don't have a high rate of on-the-job injuries and mishaps.
Conclusion
TVBracketSG is a good TV bracket Singapore contractor in Singapore. This is because they have all the characteristics of a good TV bracket installer. Look no further than these professional TV bracket installation service if you want to have peace of mind and wonderful TV viewing experience from any angle of your home. Contact them today to see the difference!