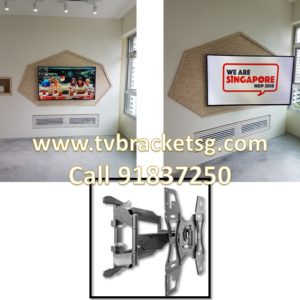 Thanks to advancements in technology, TVs today are lighter and thinner than ever before, which makes them easier to be mounted on a wall nowadays. But, some people prefer the usual TV stand. Both opinions sound good theoretically, but which one would be the best for you? You can read some differences and pros and cons between a TV stand and a TV bracket.
Today, a majority of new flat-screen TV sets are designed in such a way that it can be mounted to a wall. These sets have pre-made holes on the rear side for attaching brackets and mounts. They are all designed according to the VESA Mounting Interface Standard, meaning you can pick up a bracket of a certain size and be sure it will fit. The type of mount is usually stated on the box the TV came in.
Pros
Saves you a lot of space by clearing out the floor space which you would have, otherwise, used for your TV table
Makes the room look modern, sleek and less-cluttered because wall-mounted TV sets become its focal point; fewer wires means a lesser chance of tripping over them
TV mount brackets are easy to install; it usually takes about an hour to set up
Wall mounted TV sets are easier to view, thanks to the ideal viewing distance and lessen the chances of a neck or eye strain
Cons
TV brackets take more time to set up and get things going than a normal TV table
It is extremely important to check and ensure that every bolt properly and tightly connected, or else, you might end up with a costly clutter on the floor
A TV stand is a stand where you can place your TV set along with an entertainment system. These tables come in all size and shapes and most can fit into any room like your living room or bedroom. TV tables are designed in such a way that there is enough space to keep your other essentials.
You can place your Blue-ray player, A/V receiver, channel speakers, etc. without any problem. Also, such equipment may overheat if there isn't ample room for airflow. Hence, a TV stand is necessary for such cases.
Pros
TV stands offer more storage space; most of these tables come with attached cupboards and drawers, giving you the additional space for your DVDs or other equipment
Also, it is very easy to access and connect all sockets and cables without moving the viewing position of your TV set
TV stands are much easier to move around whenever you want to rearrange your furniture or selling your house
Cons
Unlike TV brackets that can be placed high, most TV sets can easily be reached by pets and small children, leading to injury or damage
TV stands occupy more space; hence you end up with restricted floor space
In the end, it is up to you to decide, which option works that best in a situation. Both choices come with its good and bad points. The type and size of the TV set do not matter, but you need to ponder for a moment about its placement. A proper placement will determine a significant portion of the overall enjoyment factor of your brand new TV set.
Give us a call and our expert team can mount your TV for you. With our professional installation services, your TV can be safely mounted on any of the walls in your home. Plus, we also offer a wide assortment of high quality TV brackets in Singapore to our customers within affordable prices.