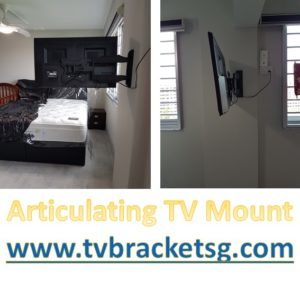 The articulating TV mount is also known as the full motion TV bracket. In TV bracket Singapore, we have two options for your consumption. The single arm and the double arm option.
Today, picking the right TV mount is one of the shopping list in shopping malls. This would not go down because as technology continues advancing. We would increasingly see very flat, lightweight screens and appliances, which would not fit into our old table installation for the TV.
The articulated TV mount as the name implies provides more viewing distance and options in comparison to wall mounted or tilting TV brackets. Positioning options of an articulating TV bracket mount can be easily tilt up or down, swivel left and right and also pull in and out smoothly.
At TV bracket Singapore, we have two full motion wall mounts, the single arm and double arm are the adaptable wall mount that can be adjusted to various viewing angles and has a swivel feature. We also possess the tilting TV mount, the monitor mount.  Common benefits of using a full movement mount includes;
In situations where the TV is mounted far from your sitting position, both of the full-movement mounts can be pulled forward to diminish the viewing distance.
TVs can be mounted toward the edge of a room, as the swivel choice would enable you to utilize the TV without stressing your eyes or neck conveniently. Likewise, with the swivel option, you don't need to adjust all of the furniture to align perfectly with the screen; you can simply turn your screen to align with your sitting position.
These TV bracket options provides the opportunity to conveniently arrange cables and wires, behind the TV mount to give a better overall appearance after total setup.
The full motion  TV bracket also very useful for the room as they have the functions to swivel it and tilt up or down that would permit you to sit in front of the TV and easily watch from a resting position.
The problem of wondering where to place wires, and other cables that might be connected to your screen is avoided when you're using a full motion TV bracket for your installations.
You can easily redecorate, as the full motion TV bracket gives a lot of room for adjustment and positioning. Redecorating could be a simple event like changing the screen position intermittently; or you could all out and change the entire interior, without having to worry so much about your TV bracket not fitting in.
With an articulating monitor mount, it is easier to handle workplace monitors. However, if you have a dual or multiple TV as shown in our website a full motion articulating mount might not be for you.
The articulated TV bracket, can serve in different capacity. The screen size does not really matter as long as requirements such as if the articulated mount you decide to purchase is the right one for your TV. Also another situation to consider is if your VESA holes are a perfect fit.
At TV bracket Singapore, our articulated TV mount comes with different options for your satisfaction. Our full-motion TV bracket (both the single arm and dual arm) provides the greatest articulation option each having a swivel option of up to 180° and tilt option of up to 15°. The tilting TV mount articulated option does not come with a swivel option but it has a tilt angle of up to 12° for all sizes of the mount.
The articulated TV mount has no obvious disadvantage.  However, some people might claim that the ability to move the screen continually might weaken the TV bracket mount. This situation has not been reported by all clients which we have installed the articulated TV bracket for. You can go through our jobs and products at TV bracket Singapore   to have a first hand view of our products and services.
Still not sure if this is the right TV mount for you, you can send your questions to enquiry.tvbracketsg@gmail.com we have people on standby ready to answer your questions, or you can visit us at TV bracket Singapore   to go through our detailed catalog of TV brackets wall mounts.