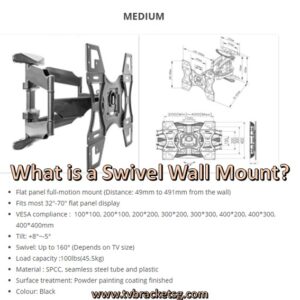 Sometimes, mounting a TV on the wall can be a very difficult task especially if you do not have a basic understanding of the principles on how to go about it, and also do not have a professional installation company nearby.
Purchasing a brand new a TV and sitting comfortable to watch football and other TV programs can only be reassuring when you're convinced that your TV is mounted firmly and securely. A wonderful wall mount/bracket is the swivel wall mount.
A swivel wall mount (or popularly known as a tilting wall bracket) is a TV bracket that permits movement or adjustment in a vertical position. This means that you can pan your TV upwards and downwards to obtain a perfect viewing experience. This TV bracket has lots of advantages which they can offer to the user. These advantages are very beneficial and maximize the satisfaction of the users.
Note: This type of TV mount is best if you decide to hang a TV in a place above eye view, for example; fireplace, bedroom.
Benefits of a Swivel Wall Mount
a)    Easy to install
Unlike the full-motion or articulating TV bracket, this swivel/tilting wall mount is relatively easy to install. It does not require so much of professionalism to install.
Although it is best to employ professional help like TV Bracket in Singapore to install this type of TV bracket (in case of any problem that might be encountered during the installation), you can still decide to do it yourself if you have the basic knowledge and the necessary tools to do so.
b)    It is Affordable
This is also one of the reasons why it is popularly used today. The swivel TV bracket is quite inexpensive (although not as affordable as the flat/low profile mount) compared to the articulating mount.
c)    Adjustable viewing angle
This is a major boom that the swivel wall mount has over the flat-mount. The swivel TV bracket is adjustable and allows movement from upwards-downwards. Although some new models have interchanged the motion to sideways motion, the most common movement it permits is the vertical movement.  This benefit helps you adjust the viewing angle (away from sun reflection) for optimal satisfaction
d)    Aesthetically pleasing
Mounting your TV on a wall bracket is also very attractive and soothing to the ambience of your home. The swivel wall mount provides another spice to the interior décor of your living space. It makes things neater and more organized compared to using a TV stand.
e)    It saves space
Using a TV stand tends to make your living space too crowded, especially if you are living in a small room. The swivel TV bracket helps you save space in your living area without requiring you to hang a TV on a ceiling or purchasing a TV stand.
f)     Easy access to ports
If your TV is mounted in a flat mount, it is very difficult to reach the ports at the back of your TV without bringing it down. This is because the flat-mount is about one inch close to the wall. But in the case of the swivel mount, you can just swivel your mount to the side to access the ports at the back of the TV. This makes it very simple and efficient.
Disadvantages of a Swivel Mount
a)    It requires professional installation:
For better guarantee and security, it is better to employ professional assistance to prevent damaging your TV and also to combat any issues that can be encountered during installation such as drilling issues. At TV Bracket in Singapore, we offer trusted and professional installation on the wall bracket.
b)    Expensive cost of installments
Since professional installation might be required, it incurs extra cost especially if your installation company is charging a lot. But at the TV bracket in Singapore, costs of installation are quite inexpensive and affordable.
c)    Visible cords and wires
Because the TV is mounted on a wall, the cords and wires of the electrical appliances will be visible and may not be aesthetically appealing. You will require additional wiring assistance to hide the cords in the walls. This adds more expense to your budget.
Conclusion
Having known what a swivel wall mount is and the advantages and disadvantages of owning a swivel wall mount, it is best to employ the services of a professional company who will guarantee you that you will purchase the best swivel wall bracket and also take care of the installation services at affordable prices. At TVbracketSG we provide quality wall brackets and secured installation services through our professionals. Contact us at the TV bracket in Singapore for more information.