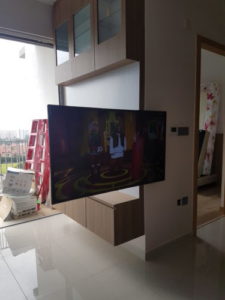 Modern day Televisions sets are no longer bulky and heavy instead they have been replaced by ultra slim display panels using LCD, LED or Plasma technologies. The advent of these new slim TVs has given consumers flexibility to mount or hang their TVs with numerous possibilities. Unlike the old CRT TVs, which required a robust stand or a shelf, LEDs/LCDs can be hung to your bedroom walls right in front of your bed using a wall bracket or could be hung in your kitchen on swivelling Ceiling Mounts. These brackets are light weight and easily installed or removed. TVBracsketsSG supplies robust and high quality TV brackets of all types. For those who prefer the charm of a conventional TV stand, look no further, we have got a host of clever TV stands for you.
What exactly is a Bracket or TV Wall Mount
Colloquially TV brackets and wall mount mean the same however they are two different things.  Brackets at are two flat pieces of high grade thin steel sheet (SPCC) with pattern of holes and cuts and are the most basic part. Wall mount, on the other hand, is the structure that is connected between the Wall Bracket and your TV.  The bracket and the mount are fixed to the walls using Screws, Wall plugs, Washers and most importantly the Bolts. While the Wall bracket remains stationary, the wall mount provides various types of adjustments depending upon the model you choose. You, however do not have to worry about these. We provide you these things as a set although they can be ordered as standalone items if needed.
TV Brackets at a glace
TV brackets range from the very basic one, Fixed One type commonly called the 'low profile' type, to the Full Motion model also known as the 'articulating' type. Regardless of the type you choose, TVBracsketsSG's Wall mounts can sustain weights of most big size screens of up to the 80" screen size.  Any TV larger than this would require the conventional TV stand.
While the Fixed type bracket is devoid of adjustments, it is the most popular type of bracket owing to its low cost and ease of installing. However, consumer preferences have changed gradually over the years and consumers are now upgrading to the fancier ones. Consumers who intend to use their LEDs or LCDs in their homes prefer the Low Profile wall mounted brackets or the conventional TV stands. TVs that are purchased to be used in offices or any commercial place, such as a restaurant or a pub, are often paired with Full Motion Brackets, Tilting Brackets or the Ceiling Mount.