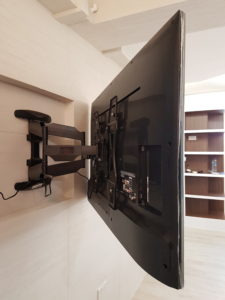 Since we are specialists and have good experience in complex installations, we can install TV Brackets and Mounts in tricky areas of your home.  Since TV BracketsSG takes care of all the work required for installing mounts and brackets, customers who choose us for their job do not have to worry about hiring an external contractor, for example, installing a bracket on a partition wall requires addition of reinforcements to such walls. We outsource such civil work to our trusted contractors who are specialized in the field. Our contractors are efficient in their work and take the least possible time depending upon the work.
In case of Ceiling mounts, installing a mount is best handled by our trained technicians. We also install mounts in false ceiling and ceiling with cornicing done on them. Due these complexities we encourage customers who buy mounts and brackets from us, to hire us for the installation work. If anything goes wrong, you will not only be damaging the wall/ceiling and decoration around but also your TV. You could even injure yourself. Any damage to your TV will not be covered under warranty given by the TV manufacturer.
Our service package starts from as little as SG 50 Dollars.
Why makes TVBracketsSG better than the competition?
Although you might find many firms selling TV Bracket in Singapore, but none of them have matched the reputation that we have garnered over the years. Our technicians have been working for many years with us and we've been particularly praised for their workmanship and customer relations. TVBracketsSG also honours warranties on the product we sell, and the service we provide such as installation. You can reach us for customer support and we will resolve any issue that arises.
Honouring the 4P motto of our organization, we offer the best prices on products and services. Comparing the inferior quality of products available from the competition, our prices will look a bargain to you.
No other supplier has a product line-up that contains so many different types of TV Brackets, Mounts and Stand in Singapore. Our product line-up includes:
(1) Fixed Brackets
(2) Tilting Brackets
(3) Full Motion Single Arm Mounts
(4) Full Motion Double Arm Mounts
(5) Ceiling Mounts
(6) TV Table Stands
(7) TV mobile Stands
(8) Gas Strut TV Mounts
(9) Gas Strut Desktop/Monitor Mounts