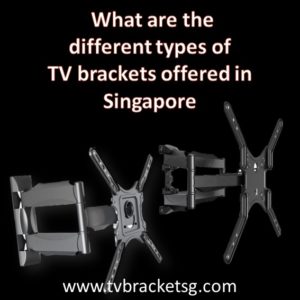 A mounted television on the wall looks good and even saves up space. If you too are looking for a TV bracket, then you surely would be interested in knowing about the various options, which exist in the market. A customer can select among a variety of mount brackets on the basis of their features, type, compatibility, and utility offered.
Some TV brackets remain fixed at a particular place, while others have a feature to move freely; the latter increases the viewing capabilities. This article will brief you in detail, about the different types of TV brackets offered in Singapore. If you want to buy one, it will surely help you out in choosing the right TV bracket. Read on to know more about its variety and types.
Low Profile TV Bracket
Low Profile TV Bracket is also commonly known as a Stationary or a Fixed Mount. This TV Bracket is designed for being capable of holding the television flat against your wall. Once it is mounted, the placement cannot be adjusted. This type of a mount might not go well with a flat panel television, which has a rear protrusion.
Ultra Thin
This TV bracket, is also known as the Slim mount and lets the TV lay nearer to the wall as compared to the other mounts, which are available in a tilting or a stationary style. So you can opt for this one if you need such a feature.
Ceiling
As the name suggests, it is used for attaching the TV to the ceiling. Such a TV bracket is used in a situation where wall-mounting seems to be impossible or awkward. This type of a mount can also be used for mounting movie projectors.
Tilting Mount
This variety of a TV bracket or a mount has a feature of an angle-free technology of tilting. The viewing angle can be adjusted effortlessly. It has a self-locking mechanism and thus the viewing angle can be adjusted even without fastening its knob.
This type of a mount allows the maximum flexibility as it can be swivelled, tilted, and extended as per your desire. This allows the viewer to view the television easily, sitting at any point in the room. Such type of a TV mount is very useful for mounting a TV in a large hall or a room.
Here are the most common and useful types of TV brackets, which are offered in Singapore. You can choose any one, which suits you the best. If you are already planning to buy one, then buy it from us. We not only just sell it off, but also render our professional services for its easy installation.
Also, make a note that you might see many TV mounts, which seem to of the identical design. But in reality, their quality is different. So do give us a chance to provide our quality products and exceptional services to you. We offer a professional installation process too. Do look out for our firm as we offer products with superior workmanship!