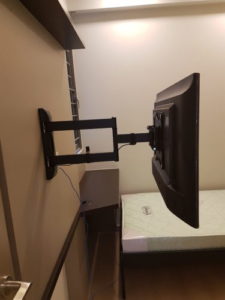 Although a Tilting mount offers some flexibility, it is however restricted to only one type of movement. In technical terms, the degree of freedom is only one.  At TVBracketsSG we understand the needs of consumers with different requirements. Since a TV bracket is purchased once in a while, it is good to invest in a product that offers you more freedom and flexibility. Full Motion Mounts offer flexibility that a consumer could dream of.  It also commonly called the 'Articulating Type' mount. A Full Motion Mount offers two additional movements over a Tilting type TV bracket; these are (a) Side to Side Swivelling motion (b) Variable Horizontal Viewing distance.
Explore our range to enjoy the best TV experience at your home or workplace. We will be delighted to assist you in selecting the perfect TV bracket. You might however want to study the salient features of each type.
Full Motion Wall Bracket
TVBracketsSG offers two types of Full Motion bracket, namely the Single Arm Mount and the Double Arm Mount. Both are quite similar in their design and functioning with a slight difference. A Full Motion Bracket is a 6 way adjustable mount with (1) Up- Down tilt, (2) Left- Right Swivel and (3) Fore- Aft movements.  Tilting, as described earlier, allows you to adjust the angle of the tilt according to the distance. Swivelling feature allows you turn the screen to which ever you direction you want to. This comes handy when you want to watch TV from one corner of your room but the TV screen is perpendicular to you. The Fore and Aft horizontal movement allows you to change the distance between the viewer and the screen. For example, while playing a video game you want the screen to be closer to you but while watching a movie you would want to share with others and have a wide angle view.

These are some of the hits and misses that can help you decide on the type of mount to choose
Highly flexible; 6 way adjustable
No other TV bracket offers this level of adjustment
Use your TV as a video game station or as a home theatre
Very useful for public places, for example a pub, restaurant, lounge
Cost is considerably high
Installation is a bit complex
A full motion bracket is easily spotted, not flush
To know more about the Full Motion TV Wall Mount in Singapore, read further.