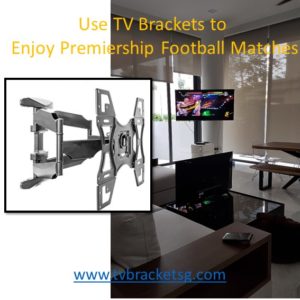 If you want to enjoy football matches more, it's a better time to buy a decent plasma LED TV. Once you buy the brand new LED TV now you can really enjoy watching the big games of football. If you have a SKY Sports subscription it will allow you to watch all the channels of SKY Sports. Some of the games are played on satellite TV providers and some shown on ESPN.
If you want to enjoy watching your favorite football matches in Singapore on your LED TV, must mount your LED on the wall by the help of TV bracket. Luckily in Singapore, the TV bracket in Singapore is the best TV wall mounting service providers. If you take help from this company, you can position your LED TV in very suitable positions to enjoy watching your favorite football matches more. Now you don't have to fork out for a football match ticket because by the help of TV bracket Singapore you can watch your favorite football match at home comfortably.
If you really want to enjoy your favorite football matches more, keep a few things in your mind:
Position of Your LED TV
The second most important thing, the position of your TV. Consideration of your TV position and height is so important to keep in your mind before you select a wall mount. Distance from the TV when you are watching your favorite football games is also important as well the proper height of your TV is also an important point.
Height of your TV is so important factor. Keep height factor in mind because if you don't set in on a proper height it will create an impact on your vision and neck too. Hiring a technician from TV bracket Singapore is a good idea because they know exactly where to set your TV. They will install your TV at a very affordable price and save your time and hassles you face while trying to do this on your own. So leave this complex installation process on TV bracket Singapore and enjoy watching your favorite TV shows.
Pick the Right TV bracket for Your TV
Always choose the right wall mount for your LED TV to enjoy watching football matches at home. There are plenty of wall mounts are available depending on the design and size of your TV. This step is so important and you have to pick the right type of TV bracket and this can be done by a trusted company like TV bracket in Singapore because you don't know about how to choose the wall mount for your TV. They have experienced staff and they will do this task in a very low and affordable price you don't need to mess with the installation process.
Choosing the wrong type of wall mounting creates problems in the long term and may damage your TV by falling down, etc. TV bracket Singapore trained staff inspects your wall and TV and decide which type of wall mount is best suits your TV. Pick a TV bracket from TV bracket Singapore and make watching football match more joy able.
Why Choose TV bracket in Singapore
TVbracketSG strongly believes in 4P principles.
Price: TV bracket Singapore has a reasonable price and low charges for their services. All products have a huge value for money.
Product: The TV stands and brackets provided by TV bracket Singapore are best in quality and they are durable for a long time. The most important thing that their products are safe to use for commercial and resident use.
People: TV bracket Singapore has a locally based team, highly experienced and very reliable. They assured, to deliver the best quality of workmanship.
Professional: TV bracket Singapore always provide professional advice to their customers. They are helping customers to select and choose the best TV stand/ TV bracket to cater for their individual needs. TV bracket Singapore understands their client's expectations and
Bottom Line
If you are looking for a right TV bracket in Singapore to enjoy watching football matches comfortably at your home, then TVBracketSG is the best option for you. It looks very simple to install a TV bracket at your own but during installation, you may face many issues and it will ruin your installation. Many freelancers are working without a registered company but we are a registered company and working in this field from more than 6 years.
TVBracketSG strongly believes in perfect customer services. We always take care of our valued customers and solve all your issues to give you a joy able TV watching experience. Hire a professional from our company and we'll do the rest for you.