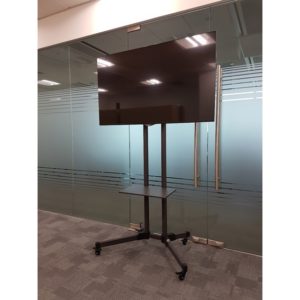 TV Stands- The Time Proven Way of Setting Your TV
Although the market is flooded with TV brackets and mounts, TV stands have still retained its position as the most popular choice for consumers purchasing TV(s) for home. First time LCD/LED TV buyers also prefer to prefer TV stands over brackets. The best things about a TV stand that it is portable unlike a TV bracket or a mount. Many consumers have dedicated TV shelves and entertainment centres in their home, making TV stand their perfect choice.
Most consumers have a host of other electronics that are used with TVs such as Satellite Receivers, Gaming Consoles, DVD Players, Home Theatre accessories etc… which calls for dedicated space to be able to arrange them. This arrangement is possible with TV stands but not with TV brackets or mounts. TV stands, whether the normal TV Table Stand or the Mobile TV Stands can easily take care of all these extra TV accessories.
TV Stands Available at TVBracketsSG
TVBracketsSG's policy to fulfil every customer's wishes has enabled us to stock TV stand of various types and sizes. Our inventory ranges from small and basic Table Stand to Mobile TV Stands which have wheels, hence the name. Some stands offer features like Height Adjustment, Tilt feature as well as a DVD/Receiver shelf.
TV Stand Models at TVBracketsSG
We stock two main types of TV stands,
(a) TV Table Stand, which is a small pedestal stand that is connected to the rear panel of your TV using screws. This type of stand is stationary, however being easy to install or remove and light weight, it can be moved easily. It is so light and compact that you don't even have to dissemble it if you wish to relocate your TV. The cost such type of TV stand is very low.
(b) TV Mobile Stand in Singapore is a small to large size pedestal structure mounted over wheels. This type of stand is mobile and can be moved along with the TV, by carefully rolling the whole structure.
The selection of TV stand mainly depends on where you will be keeping your TV.  If you want to keep your TV on a dedicated shelf or an Entertainment Centre, then you should go for the TV Table stand of suitable size. The Mobile stand is your pick if you do not have a shelf dedicated for TV. Mobile stands may include cable management system depending upon the model.