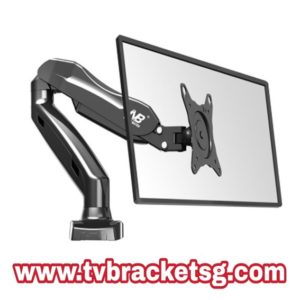 Buying a TV mount can be somewhat tricky sometimes and that's is why we are here to help you solve that issue. You just bought a new flat screen television and you still wondering if you are better off placing your flat-screen TV on a table or buying a TV mount for it. The best choice for you is to buy a TV mount! You can find various types of TV mount in the market today and picking the most appropriate one for your TV can be confusing. When you consider buying a TV bracket in Singapore, here are tips on how to pick the most suitable TV mount for your flat-screen TV:
Consider the measurement of the TV: it is mandatory for you to know if the TV is compatible with VESA standard or not, then consider the best TV mount that is in correspondence with the length and width of your Television set.
The weight of your TV set: this is also an important thing to consider, always write down the weight of your TV or keep it at the back of your mind when purchasing a TV bracket in Singapore. Compare the capacity of the TV mount with the weight of your TV before buying so as to prevent your TV from crashing on the floor.
Quality and price: the price of a TV mount sometimes says a lot about the quality of that TV mount. There are several cheap TV mounts in the market today which does the same functions as the expensive ones although you can really tell of what quality they are it is more preferable to pick out a TV mount of good quality.
The compact style of TV bracket in Singapore gives you that smart home feature. It is also of lightweight and convenient to use and install in your home, this made it one of the most sort after TV mount. When it comes to buying and installing your TV mount in Singapore, TVBracketSG got you covered.
A quality product is assured as well as installation, yes, you heard that right! At TVBracketSG, this company not only sell good quality TV brackets but they also go as far as helping you with the installation of the TV mount purchased from them. This is carried out by their professional installers so you have no worries about if your TV bracket is properly installed because exceptional and quality service is assured. For more information, you can visit our website at https://www.tvbracketsg.com/ or send us an email enquiry.tvbracketsg@gmail.com today!