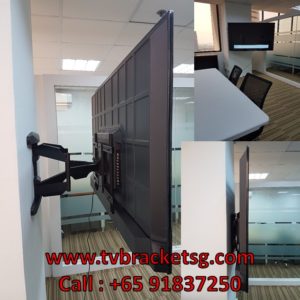 With all that there is in the Singapore market in terms of the TV wall mounts, you may be confused about which mount to buy and which to leave out. Well, while the decision may be entirely dependent on some other factor, type of the wall mount matter a lot. In this article, we shall look at some of the TV wall mount there are in the market, thus helping you decide easily on what you want.
The full motion wall mount
These give your TV the ability to pull your TV from the wall and Swivel it in any direction. This means that they can swivel it up and down, push it to and from the wall in any time you want.
They work well for mounting TVs in some old cabinets meant for the deep CRT televisions. Typically, these mounts are expensive and slightly difficult to install compared to the other options. Some of the full motion wall mount can pull the TV out up to 30" or even more.
Some of the less expensive single arm option will pull out the TV to about 10" but for the best action, we recommend 20+" arm mount.
The low profile wall mounts
These are considered if you want your TV be as close to the wall as possible. Unlike the full motion mounts, these do not swivel or tilt. Sometimes you will find that they are so close to the wall that you do not have the access to plug in the cables. This calls for the need of the spacers and a 90 degree adapters just to bring the TV off the wall.
Not unless you want your TV so close to the wall, we recommend the full motion mounts over the low-profile mounts.
You need to consider a full-motion mount within a recessed cavity which provides the user with the cleanest look because the TV can be flush with the walls.
These are in most cases in Singapore the best wall mounting options. It mounts close to the wall and are in most cases considered "low-profile tilting." what you will find out with these wall mounts is that they can handle more weight than the full motion designs and are very easy to install.
What makes them best is the fact that they can be tilted up and down but cannot be pulled off the walls making them a great option if the TV is to be mounted above the eye level.
These are the three types of the popular TV Bracket in Singapore that you will find easily in the market. Chose the best mount that sets your TV in the right position and in a manner that is appealing to you.