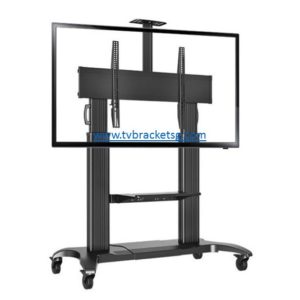 The key to mounting your large widescreen television is heavy duty TV mobile stand supplied by TV Bracket Singapore. This stand is a symbol of quality and come with automatic height adjustment mechanism as well as an adjustable aluminum pedestal. It is durable, compact, and easily adjustable. These TV mobile stands are perfect for home, entertainment and businesses uses.
TV mobile stands from TVBracketSG are also of absolute mobility and durability, meaning that they can easily be moved around to suit your viewing preference and will last you for a very long time. They provide solidity which make it possible to relocate your television to any angle easily because they are lighter than their competitions.
Regardless of your needs, such as a thrilling video game, a business presentation, or an education session, a heavy duty mobile TV stand is equal to the task. Mobile stand KLC151 and KLC181 will let you mount your television set in any room or office without hassles.
The stand comes with a component tray and upper webcam shelf where you can assemble your laptop, speakers, or AV equipment for your handiness. This product is perfect for both home and entertainment use. The sophisticated design of this mobile TV stand Singapore ensures a clutter free look because you can simply conceal all the wires within the column.
On the other hand, the display stand boasts four quick-release locking wheels which ensure safe fixation and relocation of your television. Mobile stand KLC151 and KLC181/CF100 have width adjustable aluminum base which can be folded or extended.
The automatic height adjustment mechanism built into columns is another amazing feature that of design that makes the mobile stand incomparable. It saves storage space in your home and lets the size of the package to be more compact.
The mobile TV stand VESA compliant and can support a TV screen up to 200 lbs. To make sure the television mobile stand fits all your needs, confirm the VESA pattern and weight of your TV.
TVBracketSG offers best quality TV mobile stands at reasonable price. Our stands boast fully adjustable range of extension and fully adjustable range of height adjustment for your comfort. Our competent engineers will provide you with the fast service you are looking for when it comes to installing your stand for you. Our workmanship is superior and will guarantee that all will appear sparkling and worth the money!
By buying TV mobile stands from TVBracketSG, you are sure of buying original product because we specialise in everything about TV stands. We sell all the latest TV stands at TVBracketSG Singapore, so why go elsewhere?
Whether you want to buy Singapore television mobile stand or want to install the one you have, we are capable. We work with professional installers who will get your television mounted in a perfect angle that will give you perfect viewing experience.
We have been tried, tested and trusted when it comes to the supply of latest products. In fact, we are the best contractor and supplier of TV mobile stands and other products in Singapore.
What are you still waiting for? Check us out at https://www.tvbracketsg.com/tv-mobile-stand/ now for any of our quality products or go to https://www.tvbracketsg.com/contact-us/ or Call / SMS / Whatsapp : +65 9183 7250. You can also send an email to: enquiry.tvbracketsg@gmail.com