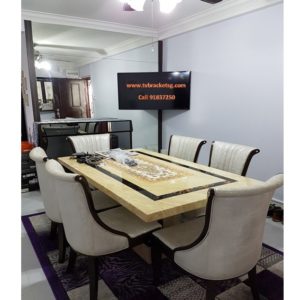 You will be making a mistake if you think that TV bracket Singapore service of TVBracketSG is limited to homes and offices only. TVBracketSG also installs TV brackets in restaurants.
TV bracket installation in restaurants will make viewing good television programmes enjoyable. Food, ambiance and service are some of the factors that distinguish exceptional restaurants from the normal or ordinary restaurants.
With good TV programmes available in your restaurant, you can move a notch higher. Customers can enjoy their food and have a magnificent viewing experience at the same time. Therefore, hanging the TV on the wall instead of taking up valuable space in your restaurant is logical and practical.
You can use TV brackets Singapore to mount TV screens on the walls. In addition, TV brackets in Singapore can help alleviate the risks of bumping your TV sets. A good atmosphere will help your clients feel at ease, comfortable, and relaxed. Well located TV screens cal give the customers a great viewing experience, aside from the music, décor, and design.
There are diverse kinds of TV wall brackets that can meet the requirements of different restaurants. The television screens can be installed on TV brackets high up the wall to make it viewable by all guests to the restaurant and not just in one direction. These brackets should be placed in different places around the restaurant for easy and convenient viewing of everybody.
A corner TV bracket Singapore allows you to install your television at the corner. This will make all customers have wonderful viewing experience from any angle while eating. There are ceiling TV brackets Singapore that will hang the TV from the ceiling if there are limited corners in the restaurants.
All these wall brackets have different types of features that will help you adjust the angles of the screens and offer the best viewing position. For example, the tilt feature allows the television screen to move upwards and downwards, while the swivel feature allows for left and right movements. There are situations when the two features may be required to attain the best angles and the combined features are in the articulating TV brackets Singapore.
To avoid putting strain and stress on the clamp and arms, the maximum tilt and swivel degrees should be enough. There are different TV wall brackets with different swivel and tilt angles to fit the requirements. In order to establish the model and type of TV brackets in Singapore, the measurements of the tilt and swivel should be determined. Different designs and colours to fit the room atmosphere are available. They are very easy to clean and install.
TVBracketSG will give your restaurant a modern look that will make the place more popular to wine and dine in Singapore. We do more with TV wall bracket installation.
We install your television in the perfect place on your selected wall
We hide trailing wires
We exhibit all the basic functions of your television
We do the reconnection of up to three devices with your existing cables
More importantly, we are the best supplier of all types of universal TV Bracket and Mounting Services in Singapore and no other supplier can boast a product line-up that contains a lot of different types of TV Brackets, TV wall mounts, TV Floor Stands, Fixed Bracket, Tilting Bracket, and Full Motion TV Mount.
Visit https://www.tvbracketsg.com/product-and-services to find out more about what we do. A try will convince you.
You can also contact us at https://www.tvbracketsg.com/contact-us/ if you need more clarification about our products and service.