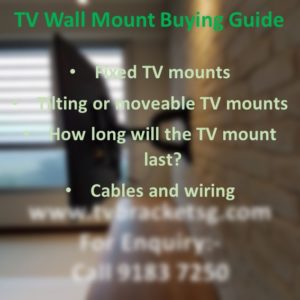 It is always a welcoming and great idea to mount your flat screen on the wall. Apart from looking fabulous, you will also save a lot of floor space. While the process of mounting your TV might look daunting, it is not exactly that hard. All you need is the right type of wall and the right type of wall mount.
TV Wall mount Singapore: Buying Guide
First, you need to choose whether you need a moveable mount of a fixed mount. This depends entirely on the layout of the room and your personal preferences. Both types of mounts have advantages and disadvantages.
As the name suggests, this type of mount is fixed. This means that you cannot adjust the position in any way possible. In this type of mount, the TV is fixed closest to the wall, thereby giving it a very clean look. These mounts are best when you have control over the lighting of the viewing room. They are also the least expensive wall mounts.
Tilting or movable TV mounts
This type of mount allows you to adjust the TV set horizontally or vertically; in some cases, even both. This type of mounting is recommended when your TV is placed higher than your viewing angle. You can also adjust the TV set to avoid glares from room lights and windows.
How long will the TV mount last?
You will find a lot of TV mounts that are made of different materials. Plastic, aluminum, and steel are all standard materials used by companies to manufacture wall mounts. Obviously, steel will hold up the longest, especially if the TV set is quite heavy. Any mount that has been rated as UL is capable of holding your TV set on the wall.
Cables and wiring
A wall mount that offers wire management is the best. There are wall mounts that offer channels in the body for the wires to run through and remain hidden. Others offer clips outside the frame to hold the wires in place.
Once you have determined which TV bracket will fit your TV set's size, you can eliminate the rest. Consider the motion option and the viewing angles of your room. Consider the wire management issue to narrow down your choices. Check of the UL listing and the quality of construction. If you are looking for the best TV bracket Singapore, do not hesitate to get in touch with us immediately.