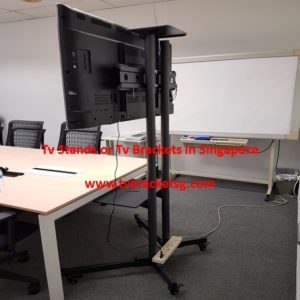 Over the years, this is a question that has raised a debate. Some people prefer normal television stands while others prefer to have their television mounted on a wall. In theory, both the options seem very good and none seems to be best, all are, but today, that is precisely what we are going to be looking at. The television mounts and the television stands. In the end, you will have a good judgment to make.
Television stands or the entertainment units
With people watching televisions now more than ever, it is very likely that they are to invest in modern technology now more than ever before. While all these appliances and television sets improve the quality of life and entertainment, the value of a humble entertainment cabinet should never go unwarranted.
Tv stands make your home look organized
While the mounts are an efficient way to conserve the floor space, that might be the only reason why most people prefer them, otherwise, they are not very functional. Have you ever mounted television and you left wondering where to put your cable work? That's just one of the many worries that you'll experience with the mounts. However, having a television stand will help you keep everything organized and in order. It is a great way to conveniently store and organize all the accessories, thus helping you reduce the clutter in the living space.
Bring out the naturality of your home
Let's be honest, cords hanging everywhere? That's ugly! Having an attractive stand has the potential to boost your home natural feel. With a decorative piece, you will be able to arrange everything in order. To attain that natural ambiance of your home, you have to make sure that the television stand matches the existing décor of the room. Contemporary interiors can gain many benefits from the television unit, especially where it is made of stainless steel or even glass – provided that it's strong.
A versatile and safe solution
Wall mounting involves a lot of drilling and precision but for the entertainment units you just need to place them at the desired location and that's it. one more thing, the television stands are quite flexible and you just play around with them, you can move them whenever you want, which makes them a convenient solution if you want to have the flexibility of rearranging your furniture layout in the future. Also, do not forget that some television is so heavy and therefore being supported by a television mount can really be a problem. with the television stands, the weight of the television is a non-issue.
Television Mounts
Well, television stands are good but the fact is, every flat screen television was designed to be mounted. If you look at the back of the television, you will notice that it has some holes which are meant to be attached to the mounts and brackets.
Save space
One of the main advantages of television stands is that it allows you to save so much space. Because the flat screen panels are so thin, it means that they can be secured so close to the wall and they will hardly stick out at all. This means that they do not take up much space, unlike the television stands.
Establish a focal point
The other advantage of the television mounts is that they establish a focal point of a room which further gives you a sleek and modern finish. The cable works can be hidden to make the room less cluttered.
Easy and cheap
Tv Brackets in Singapore are very easy to handle and very cheap compared to the television mounts. In addition, there are a lot of options when it comes to the television bracket, unlike the television stands. In addition, they are easy to install. They come with a step-by-step guide to help you install the Tv Brackets in Singapore.
Summary
I think these two options are great, each has its own advantages and disadvantages. But I also think this is the 21st century and the television stands are being bypassed by the wall mounts.