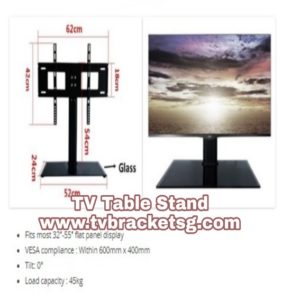 Nobody could contest the fact that TV stand Singapore is an important part of a home décor, particularly for a new TV set. Gone are those days when TV stands are placed at the corner of the room where the television is sitting.  TV stands have turned out to be an essential part of the buying decision. Moving forward with the trends of today, people are convinced by the affordability and functionality of TV stands in Singapore.
Are you seeking for the right TV stand that fits your TV and home décor in Singapore? Are you looking for a TV stand Singapore that will go together with your sense of style? If your answer is yes to these questions, then turn to TVBracketSG Singapore Company.
We are the best supplier of different types of TV stands in Singapore. Our TV stands are in different configurations, materials and styles. Our television stands are available in classic and modern designs. You will find a durable and suitable TV stand with us, regardless of your living room or home theatre.
You may find yourself overwhelmed by different choices available anytime you are shopping for a new TV stand for your television. The good news is that our team of professionals will advise you on the best stand when you come to us for your stand.
We have TV stands in striking modern styles if you fancy a clean, silky, modern look. A number of our TV stands are comes with drawers, shelves, and other storage facilities for additional functionality. You may buy a wooden TV stand that offers a myriad of styles and decorations, if you prefer the classic look better. Once you come to us at TVBracketSG for a TV stand Singapore, you will surely get one that will fit both your style preference and colour.
In addition, our installation service is second to none. As a matter of fact, we have no competition. Our more than 5 years experience in the industry and our competent team of installers always put us ahead.
Of course, quality is out watchword at TVBracketSG. All our TV stands are of high quality materials like tempered glass, hardwood, or metal. We have different sizes of TV stands that will support the weight of your TV for a long period of time because we know that when it comes to a durable and quality TV stand, weight capacity is very important.
What are you waiting for? Visit our website at www.tvbracketsg.com to get further information about our TV Brackets, TV stands, Wall Mounts, Tilting Brackets, Fixed Brackets, Full Motion Single/Double Arm Mounts, Ceiling Mounts, TV Table Mounts, TV Mobile Stands, Gas Strut TV Mounts, Gas Strut Desktop and Monitor Mounts. You can also learn more about our services at https://www.tvbracketsg.com/product-and-services and contact us through https://www.tvbracketsg.com/contact-us/ to ask whatever question that may be bordering you about our products and services. We are always available to assist you because customer satisfaction is our goal and purpose of being in this business.