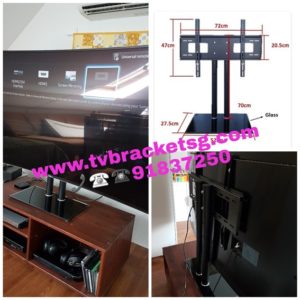 Sitting on a comfortable chair and watching funny and interesting programmes that will help you relax every part of your body is one of the best ways to get over the hectic work of the day. It is good to have television sets at home but a TV stand Singapore offers you the ideal perch you need.
Quality TV stands and Brackets Singapore from TVBracketSG Company will also provide you storage space for some other components. They will complement the rest of your décor and add style to your all your home.
Types of TV Stands in Singapore
1. Corner TV Stands
The back of a corner TV stand is shaped in such a manner that it would push backward more into the corner, allowing for the resourceful use of a section of the room that is generally not viable. When you have restricted space or you don't want your television to be the focal point of a room, corner TV stands Singapore are the perfect choice to choose.
A good number of the available corner stand options still have abundance of space to store some valuable items.
2. Hideaway TV Stand Singapore
If you are one of those who don't want a blank screen to take up space in their home or people who would rather exhibit something different from a blank screen watching it, hideaway TV stand is the perfect choice. These TV stands hide the TV when not in use. They are generally luxurious.
As TV stands are available in different designs and sizes, choosing the right size for your television are quite imperative. Choose the design that blends with your home décor and matches your style.
This is an undersized to big size stand structure mounted on wheels. TV mobile stand is portable and can be moved alongside the television, by rolling the entire structure carefully. Mobile TV stand is the perfect choice for you if you have no space devoted for television. Depending on the model, mobile TV stands in Singapore may comprise of cable management system.
This is a small pedestal stand attached to the back panel of your television with screws. TV table stand is motionless, but very simple to set up or remove. It is lightweight and can easily be moved. TV table stands are extremely light and compact that you need not dissemble it if you want to change the location of your TV.
The choice of a TV stand generally depends on where you want to keep your television set.  Your choice should be a TV table stand of fitting size if you want to keep your television on a devoted shelf or an Entertainment Centre.
At tvbracketsg, we do supply many other kinds of bracket for your TV.  Do support local company.  We provide the best customer service and we do give you the best solution.  Visit us from here:- https://www.tvbracketsg.com/  or contact us for more details.