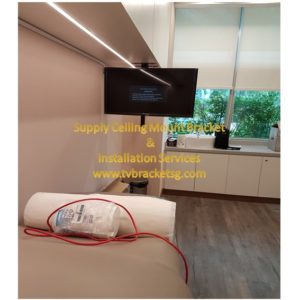 Things are getting easier, lighter, smaller, and more compact day by day. It does not make much sense to have a really heavy TV at your place. Plus, the thin new TV with the TV bracket also looks better with any kind of interior today. But if you have an idea of setting up a TV stand at your place, then it makes perfect sense as well. The important thing is that it should suit the inner space of your home.
Wall mount: the knowhow
A TV bracket in Singapore is a much chosen option these days because of all the convenience it comes with. Not only is it lightweight, but also makes the whole room look effortlessly smart.
Advantages
Here are the advantages of a wall mount:
One of the best options that you have with a TV wall mount is that you can choose to decide the height at which the TV will be placed. So, you can get the perfect angle fixed to give you the best viewing experience.
Wall mounts give a very sleek look to the whole room. And if the wall at the back of the TV matches the TV perfectly, then it can make your room look straight out of some home décor magazine.
Disadvantages
Wall mounts also have some disadvantages:
Wall mounts can be quite difficult to be installed.
Often the walls might get spoiled while installing the wall mount because of all the drilling.
TV stand: the knowhow
TV stands are compact but also let you store a lot of things. Apart from this, they are another piece of furniture that adorns your room. So, when you choose one, you have to consider if it suits the aesthetics of your room.
Advantages
Here are the advantages that a TV stand comes with:
TV stands can let you store a lot of stuff, especially things like TV accessories, music system, flower vase, books, etc.
Since the TV stand is large, it lets you hide the wires behind it that might spoil the whole appearance of the wall. So, this can be a piece of furniture that gives a sense of completeness to the room.
Choosing the right kind of TV stand actually creates more space in the room and helps you keep the things organized.
Disadvantages
TV stands also have some disadvantages that need to be considered:
Buying the wrong one will take up unnecessary space in the room.
TV stands can be a bad idea if you have children or pets at home. Pets chew and leave marks and children might stumble and hit themselves against the stand.
We do not think that you should have any difficulty in choosing the right option for you now. If you face any problem in installing or choosing the best one for your house, then we are right here to help with our expert service.