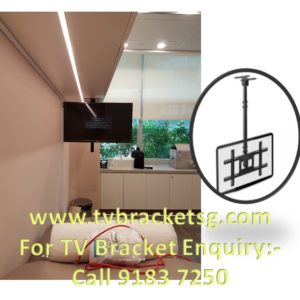 The act of wall-mounting a TV is not an easy task as it generally seems. Even finding a TV bracket in Singapore depending on the size of your TV requires professional help. Most of the times, people do not know of what size a TV bracket will hold their TV.
It is quite possible that a TV bracket for a 55" flat-screen TV from a specific brand will not be able to support a 55" flat-screen TV from some other brand. This happens due to diverse mounting dimensions. In order to resolve this problem, you should refer to VESA Mounting Dimensions. If you have no idea about the VESA mounting standard, read this article further down.
What do you mean by "VESA"?
VESA stands for the Video Electronics Standard Association. It is a professional association that comprises professionals in the field of video electronics. The main aim of VESA is to create standards and analyze proposals to endorse uniformity throughout video electronic manufactures. VESA was established in the year 1989 to establish standards for interface among various products such as flat-screen TVs and monitors.
What are VESA Mounting Standards?
Most of the manufactures comply voluntarily with VESA standards for wall-mounting a TV. These manufacturers construct flat-screen TVs and monitors with a standard pattern for holes on the displays' back. It is done this way so as to meet the requirements of mounting. The most common hole patterns for flat-screen TVs include dimensions like 75 mm x 75 mm, 100 mm x 100 mm, 200 mm x 200 mm, 400 mm x 400 mm, and so on.
It is quite easy to determine the mounting dimensions of your TV as per VESA. For this, you can refer to the product specifications in the manual. Otherwise, measure the dimensions yourself. In order to calculate dimensions, measure the four holes on the back from top to bottom and left to right. The VESA mounting dimensions are (horizontal distance) x (vertical distance).
You can locate a TV bracket for your flat-screen TV on our website. Here, you will find TV brackets of all the size based on the VESA standards. Explore our exclusive range of TV brackets and choose the ideal product for your smart TV. If you are not sure about the size, call our professionals and they will help you with all the necessary things.