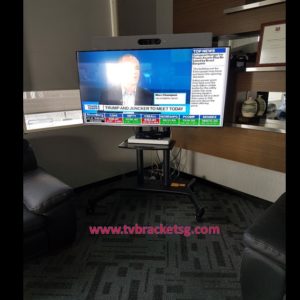 TV mobile stand is just the perfect way to take your television to wherever you go and wherever you need it! Mobile TV stands from TVBracketSG provide you with easy versatility and allow you to adjust your television based on your viewing preferences. With TV mobile stands, it is quite easy to mount your flat screen television. In addition, you can easily roll the cart anywhere, while the caster lock feature is for stability.
This TV mobile stand also has an adjustable stand ideal for an AV component. You can also adjust the stand to any glare with the tilt. You can never be wrong with the choice of mobile TV stand from TVBracketSG because it is just perfect for everything.
TV mobile stands can be used in organisations irrespective of the size, owing to their extremely portable nature. As a result, you can use television mobile stands in Singapore educational settings or hospitals. On the other hand, it is easy to change the direction of your television so that it can be viewed by a large number of people. television screens can as well cater to people with sight problems, unlike projectors.
The Many Benefits of a TV Mobile Stand
 A Ground-breaking Way of Watching TV at Home
These mobile stands are a great way to watch television at the comfort of your home. You can take your TV to any room in your home, instead of mounting it on the wall. This negates the need for numerous TVs and lets you watch your television at your total expediency. In addition, if you have visitors, they will not have to work themselves around the TV. The television can be wheeled to them instead.
TV Mobile Stands can be Used By Educational Institutes
Educational settings can use TV mobile stands from TVBracketSG Singapore, particularly in classes with reduced number of students. Teachers can also use them to play videos or educational documentaries in a very small tuition class group to further teach the students.
Making Healthcare Facilities Dynamic
It is a good thing to have a TV mobile stand in Singapore health institutes to make health care facilities dynamic for all. It will give patients and other people the opportunity to watch TV and see those things that healthcare experts need to show them without having to mount television in each room.
This will save costs as the TV can easily be moved around in numerous places when needed, instead of having a TV installed in each room. Moreover, this may be a great way to keep patients busy when they are tired and need a kind of entertainment.
 If you need more enquiry or want to buy television mobile stand or more tv bracket in Singapore, all you need to do is to go to https://www.tvbracketsg.com/contact-us/ or Call / SMS / Whatsapp : +65 9183 7250. You can also send an email to: enquiry.tvbracketsg@gmail.com