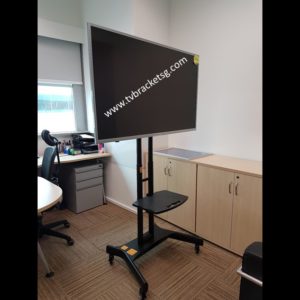 At TV bracket Singapore, we do not pride ourselves in giving you the best installation package, but our products are top notch so that you get great value for the money you spend.
A common question we have continually encountered in our short history is that of clients wondering if mobile TV stands are suitable for mounting big flat screens. At TV brackets Singapore we have four different dimensions for our mobile TV stand;
This mobile stand is ideal for a TV size of 32" – 65" with weight Limit of around 50kg. Because this stand is not mounted on the wall, it doesn't have a significant tilt angle (-15º ~ + 15º). The height is adjustable, and it naturally comes with a TV mounting height of (1.3m – 1.5m) while in the 1.8m variation, the mounting height is (1.5 -1.7m). Another beauty of this TV bracket is the fact that it is pre-installed with a DVD Shelf and an adjustable Shelf. There's also a wheel lock option to prevent unnecessary movements of the stand.
TV Mobile Stand (KLC151) and (KLC181) Design
This TV stand can be used as a mount for a 32" – 65" while, the (KLC181) stand is (55" – 80") Sized TV. Both stands have a weight limit of 45.5kg, which is small in comparison to the 1.6m or 1.8m variation. The VESA Distance is 100x100mm to 600x400mm for the (KLC151) and 100x100mm to 800x500mm for (KLC181) with no tilt swivel option for both. Also, noticeable is the fact that the TV Height Adjustment of 1.03m – 1.53m for the (KLC151) and 1.35m – 1.65m for the (KLC181) design, is lower than the 1.6m and 1.8m variation. However, these mobile mounts still possess a DVD Shelf and wheel lock. With a cable management option being the additional design.
Just as the name implies, this TV stand is meant for big flat screens with a TV Size of 60" – 100″ and a weight limit of 90.9kg. Noticeable here is the fact that there's no tilt swivel. The VESA Distance is 200x200mm to 1000x600mm and height adjustment for TVs on this mount is 1.39m – 1.74m. There's a DVD Shelf, wheel lock option, and a cable management plan on this heavy duty stand.
The mobile TV stands in the earlier paragraph are available at TV bracket Singapore. There are other factors that should be considered before the question of the safety of your big screen on a mobile TV mount can be answered accurately.
Issues like is your screen VESA compatible with the mobile mount you want to install? Do you have enough space to handle a mobile mount? Do you have children around the mount (because the might play with the mount wheel-lock)? Is a mobile Tv stand the best option for you? All these questions should be answered before going to your appliance store to pick a mount for use.
Before purchasing the TV mount, be sure to confirm that the mount can handle the weight of your big screen as not every mobile is designed to handle big screens. After purchasing your desired mobile mount (which you can get from our store), the next step is the installation of your mount. Before mounting the stand, calculate the viewing distance from your sitting position, to ensure that the mobile mount is fixed at he right height to prevent straining. Finally, with all these instructions available to use, your compliance with them could help ensure that your big screen gets the best mount available at your disposal.
We return to our initial question; Is my big screen safe on a TV Mobile stand? If your flat screen meets the requirements for our mobile stand, your screen is safe. Furthermore, if you're able to follow our recommendations in this article, it is correct to say that your screen no matter the size is safe if you choose to use a mobile TV mount. However, if you're still not sure about the details of your flat screen or you would like to talk to a professional, you can contact us at enquiry.tvbracketsg@gmail.com  or send a mail to enquiry.tvbracketsg@gmail.com