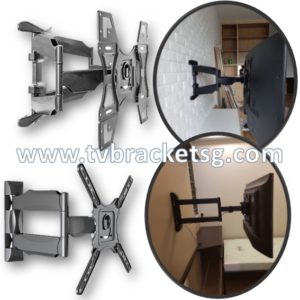 TV bracket Singapore follows the style and fashion of TV sets. In other words, TV brackets in Singapore are made and designed to go well with the latest emerging TV models, even as TV sets are becoming slimmer, lighter and larger. These TV sets undergo regular design innovations and improvements.
It becomes more difficult to place TVs on cabinets and TV stands as they get slimmer. This technological advancement has given TV wall brackets opportunities in Singapore. Producers now design and create ultra slim model to keep in pace with the slim TV sets now available in the marketplace.
Where then can you buy the best TV bracket in Singapore? Well, there are TV brackets in all the hardware and appliance stores in Singapore. But the fact is that, TVBracketSG is the best place you can buy TV bracket in Singapore. We are the best when it comes to the supply of good TV brackets in Singapore. Our TV bracket Singapore is not the ordinary type, but the one that will display your TV set elegantly.
Quality is our watchword at TVBracketSG and that is why we don't mount  televisions for our customers by using shoddy TV brackets Singapore. Doing this will lower the impressive look of the TV and will not in any way draw attention to the quality of our products.
Little-Known Facts about TVBracketsSG: The Best Supplier of TV Bracket Singapore
TVBracketSG was founded some years back. We have been supplying durable TV brackets and TV Stands and rendering high-quality mounting services for our numerous customers. We have been continuously supplying universal and multi-size types of TV brackets and TV stands in Singapore since 2012.
You will never be disappointed with our services because our TV bracket installers are well-equipped with numerous years experience in this industry. If you have problem choosing the type of TV bracket that will suit your TV most, you can always get in touch with our professional team. They are always available to give you FREE advice at no obligation.
Why Choose TVBracket to Buy TV Bracket in Singapore?
Here at TVBracketSG, we strongly believe in 4P principle of Professional, Products, people, and Price.
We are professionals in the industry because we give expert suggestions and advices to our customers on how to get things right on first attempt.
As far as our products are concerned, our TV brackets Singapore are second to none because they are unique and durable. Moreover, products from us are safe not only for residential purposes, but also for commercial use.
When we talk about people, we have those who will deliver quality workmanship at affordable rate. Our locally oriented team are well equipped and have many years of experience to satisfy or meet the requirements of our clients.
Finally, our price is competitive. It is not the cheapest and not the most expensive either. More importantly, our TV brackets and other services are indeed attractive and will offer you value for your hard earned money.
What are you still waiting for? Contact TVBracketSG today at https://www.tvbracketsg.com/  for more information about our products and services! You can also Call / SMS / Whatsapp : +65 9183 7250 or send an email to: enquiry.tvbracketsg@gmail.com