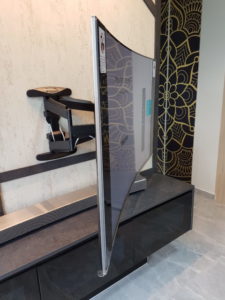 Are you worried about placing your television in the right position where you will have a better view of it? TV bracket Singapore is the answer. With the aid of TV mounting technology, TV floor stand and bracket from TV Bracket SG Company in Singapore, you will be able to place your TV in the best position.
If you reside in Singapore or anywhere in the world, you will need a wall mount, wall bracket or TV bracket if you want to hang your television on the wall instead of putting it on a TV stand or cabinet.
When choosing between the different TV brackets in Singapore, think about how you want it to work. Do you want to use a thin bracket to allow the screen to come close to the wall? Or do you want it to revolve or tilt at an angle?
There are different models of wall brackets to match well with the different weight and size of TV screens. Therefore, opt for a bracket well-suited with your TV and how you would like to tilt and adjust the screen.
Why Choose TV Bracket Singapore
There are many reasons to use TV mounting technology to mount your television in your home. Quite a number of people believe that the mounting process is either dangerous or very tough, and they don't want their new TV dangling from the wall.
However, installing a TV wall mount in Singapore is never a difficult or complicated task with a professional company like TV Bracket SG.
Keep reading to know why you should consider installing your television with TV bracket in Singapore.
1. Prevents Neck and Eye Strain
Mounting your TV prevents eyes and neck strain as it is possible to move your mount at a tilt or an angle. This is particularly helpful if your TV mounting is at a higher level on top of a mantle or fireplace. Ensure that your TV mount has a complete motion characteristic that will let you watch your TV at the right angle and height and will reduce strain from watching at inappropriate angles.
2.  Adds Space to Your Home
Using a TV mount is both efficient and saves your space. Hanging your TV on the wall offers you additional space to work, particularly when you are setting up the entertainment centre of your home.
3. Installation is Very Easy
TV mounting and installation is very easy in Singapore with TV bracket and help of another person within an hour.  TV wall mounts from TV Bracket SG Company in Singapore features easy integrated hardware and installation directions to guarantee a quick simple process and a flawlessly straight TV, at first attempt.
4. Durable and Less Prone to Damage
Quite a lot of scenarios and occurrences can cause damage to your TV. The first instance is that the television may be knocked by people when trying to walk around or in front of it.
Secondly, the TV might get jolted or nicked when playing games with motion control like Xbox Kinect and Nintendo Wii. Thirdly, TVs are relatively defenseless against curious or energetic pets.
A TV standing on a TV floor stand or a piece of furniture may fall down injury to children and pets playing around the place. On the contrary, the possibility of knocking a mounted television off the wall is much slimmer, while such a unit will not topple if rightly mounted.
Conclusion
While the TV you choose for a room in your home is essential, the type of TV bracket Singapore you pick is also very significant, and can easily make or mar your viewing experience. A TV mount in Singapore does more than securing your TV. It can also improve your viewing experience particularly if the room you are in is not squared off or does not comprise a wall that is perfect for central hanging.
TV Bracket SG supply and renders different universal TV Bracket and Mounting Services in Singapore. There is no other supplier with a product line-up containing products such as TV Mount, Fixed Bracket, Floor Stand, TV Brackets, and Tilting Bracket in Singapore.