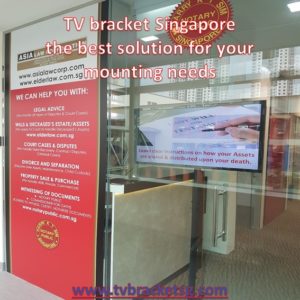 Making a TV upgrade is the best option. Certainly, it will revamp your home entertainment experience and if you are considering an upgrade of your electronics, starting with the television, we believe that there is no better time than now. In fact, you don't even need to purchase a new television, you can just mount the television in your home.
There are so many professionals out there who offer this service at a reasonable price, matter of fact, you can even do the mounting yourself. However, if you need the best service when it comes to television installation, TV bracket Singapore is one of the most trusted company in television mounting and installation services. Aside from that, the company also sells mounts, brackets and stands which are of high quality and affordable. Before we look at some of our specialized services, what are the advantages of mounting your television?
Mounting enhances the design of your house
Most people forget the classic and elegant style that mounting brings to a home. In addition to wall mounting, the other two common ways to place your television is by either placing it on a stand or within a cabinet.
While they are good ways and they bring out the uniqueness of a television standard placement, they are also clunky and tend to take up a lot of space, space that you might be trying to save. Other than that, they are very expensive and won't guarantee the safety of your television.
Mounting a television means that you don't have to waste valuable space in your living space. More than that, mounting the television means that you are installing the television in a place where you are comfortable with while watching, and this goes along way to improving your health.
Achieve an optimal viewing angle
Something that most people don't understand is that it is only with mounting that you achieve the best and optimal viewing experience from your television. When it comes to achieving the best angle for you and you guest choosing mounting as you can easily customize the depth and height adjustment of your mount.
One downside of television stand is that you can never be sure of your television placement, whether you have placed it too low or too high which can often lead to craning your necks. With mounting, you will be able to place the television at a height that you are most comfortable with.
Again, mounting is important as you can be able to place the television high enough to avoid any potential activity happening below the television which in most cases disturbs or interrupts your view. This bring us to the final and perhaps one of the most important reasons why you need to mount.
Undisturbed viewership
With stand, you are never sure about the security of your television, other than that imagine a situation where you have kids and pets playing all over the place, around the stand while you are watching, they will be blocking your view and they might run into your television tipping it off to the ground.
With mounting, you can avoid all these. Mounted television is secured with brackets and bolts so that you don't accidentally knock it off. What we love about television mounting is that you will be able to watch your television uninterrupted and in addition, you can be sure that no matter what, your television will always be safe.
Choose Tv bracket Singapore for the best Mounting services
Who you choose to install your television on to a wall will determine the future of your television? Tv Bracket Singapore is a company that was established in 2012 and in that time period, the company has continuously been the leading supplier of universal and multi-size range of TV brackets and stands in Singapore.
In addition, if you need wall mounting services, you should choose Tv bracket Singapore because we are experts in installation and assembly services for all the LED, LCD, OLED, Plasma and Curved televisions. With a team of well-established installers with more than 5 years of professional experience, you can be sure that you are getting the best service ever.