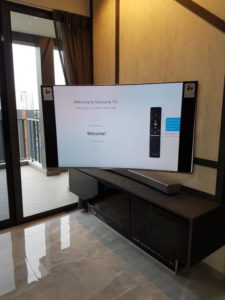 TV bracket Singapore is a specially made bracket for TV mounting and displays on walls. Both the TV mount and a TV wall bracket are the same. You don't need to strain your neck before you can view or watch your TV from any angle of your room because the TV mount has the ability to revolve, swivel, tilt, and adjust the angle of the screen.
If you want to incorporate the cinema experience within your bedroom, consider using TV brackets for mounting your television in a major spot. Quite a lot of TV brackets in Singapore are adjustable. As a result, it is possible for you to set the correct angle and height for a perfect viewing from any corner of your room.
With the ability to tilt, swivel, rotate and otherwise adjust the angle of the screen, there is no need to strain your neck to watch TV, nor do you have to put up with the glare of light on the TV screen.
A TV bracket in Singapore is designed as per the style and fashion of TV sets. TV brackets are made to match well with the new emerging TV models because TV sets of today are bigger, lighter, and slimmer. These televisions undergo constant design innovations and improvements.
As TV models become slimmer, placing them on TV floor stands and cabinets because more challenging. This TV technological advancement has encouraged the use of TV wall brackets.
Where and How to Find TV Bracket Singapore
Finding TV brackets in Singapore is very easy. These wall mounts are available in nearly all the hardware and appliance stores in Singapore. When you get to TV stores, you will find quite a lot of them right on the wall, stylishly exhibiting the mounted TV sets.
In addition, you may have to ask the store manager or sales supervisor of electric stores in Singapore of where they normally buy their stylish TV wall mounts. The information you need about the weight and size of the TV bracket can be obtained from guide enclosed with the TV sets.
Other Places to Find TV Brackets in Singapore
The Internet
There are different sites where you can buy TV wall mounts in Singapore. One of such websites is TVBracketSG.com. This company supplies different types of TV Brackets, Full Motion TV Mounts, Tilting Brackets, Fixed Brackets, TV Floor Stands, Ceiling Mounts, TV Mobile Stands, TV Table Stands, and more. Furthermore, they render TV mounting services in Singapore.
Family and Friends
You can ask your friends and family of the place they buy their TV brackets and what their experiences are all about. With thorough research, you should be able to find a TV wall mount that will suit your budget and fits your TV.
Visit TV Bracket SG today for TV wall brackets Singapore. They are one of the leading suppliers of wall brackets in Singapore. Learn more about their products and services here.