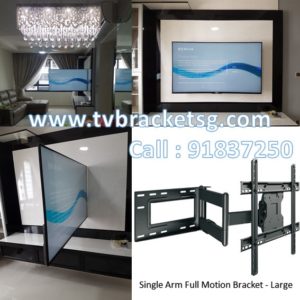 Using a TV bracket Singapore for your TV mounting instead of TV floor stand is a good decision. Television mounting with TV brackets in Singapore will not just conserve your space, but also make viewing easier and wonderful. However, you need the service of an experienced and professional TV wall bracket Singapore Company in order to make sure the right wall bracket is used and that the wall mount is safe and properly done.
It is no more news that TV mounting on the wall frees up table space as against TV floor stand system, making TV viewing a more pleasant one. TV wall mount creates a theatre experience, general ambiance of your room, and increases sound and picture quality.
However, the issue is that using TV brackets in Singapore for TV wall mount is a task that must be performed by a company that has the experience, expertise and tools.
TV Bracket SG is a Singapore Company with the right experience, expertise and tools such as:
A black electrical tape
Surge protector
Stud finder
Screwdriver
Power drill with assorted bits
Socket wrench
Nails
Pencil
Fish tape
Tape measure
At TV Brackets SG, we understand that there are different types of walls and how to conduct a perfect TV wall bracket Singapore installation on any of these walls due to our long term experience in the industry.
We are also aware of the fact that there are different types of wall brackets on the Singapore market. Hence, determining the most suitable one for your needs is never tricky to us. We will not buy a cheap quality TV bracket Singapore for you because we know it is not long-lasting.
They type of TV bracket we will use for your TV mounting will depend on the type of television you desire to mount, the size, and whether you want to angle it in a particular way or want the display to be a bit tilted. Once our team of professionals inspects your room, they will decide on what is suitable for you.
We will choose a TV bracket which is rigidly fixed in place, or the one with a little more flexibility and movement, depending on the requirement. Irrespective the size of your television, we will choose the right wall mount TV bracket for you.
Different Types of TV Brackets Singapore
 Low Profile Wall Bracket
This is a fixed and rigid bracket premeditated to grip your TV set safely to the wall. Low profile wall mount does not move and once it is mounted, you cannot change the position. This type of wall bracket is occasionally inappropriate for flat panel sets with broad backs.
Extra Thin or Slim TV wall bracket Singapore
 This type of wall mount allows you to position your television set near the wall. Extra thin TV wall brackets can be angled or rigid to fit your requirements and makes a versatile option. It is handy for you if you don't want to commit to a fixed point.
Swivel TV Wall Mount
This looks like a low profile wall bracket, except for the fact that it gives room for a high level of straight movement and tilting. Swivel TV wall bracket will not allow your television set to be moved as freely as possible, but a number of varieties do provide a greater level of swivel.
Articulating or Cantilever TV Mounting Bracket
This type of wall bracket puts your TV on a retractable arm attached to the wall mount. There is opportunity for much movement here, as the set can be tilted left to right or positioned far away from the room.
Tilting TV Bracket Singapore
This wall bracket resembles a stationary type, but allows for a faintly angled viewing display. Tilting TV brackets make watching your television easier, due to the fact that you can change the angle after installation, and then locked into position for improved protection.
Final Thought
Your TV bracket Singapore installation requires the service of an experienced and professional company. TV Bracket SG is a renowned, experienced and trustworthy supplier of all kinds of universal TV Brackets, Gas Strut Desktop/Monitor Mounts, Gas Strut TV Mounts, TV Mobile Stands, TV Table Stands, Ceiling Mounts, Full Motion Double Arm Mounts, Full Motion Single Arm Mounts, Tilting Brackets, Fixed Brackets, TV Mounting services in Singapore and lots more.
Give us a try today and be part of the unique and breath-taking TV bracket Singapore experience!