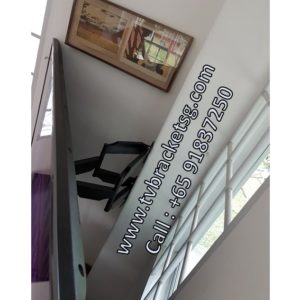 Do it yourself TV bracket Singapore installation needs the right tools to make it successful. Many TV wall mounts are available but the essential thing is that you must know the right tools you will need to make your TV mounting successful. Unlike the professional companies who have the right tools for TV wall mount, you ought to know the right tools for your TV mounting Singapore if you choose to do the installation all alone.
Continue reading to know the right TV bracket Singapore installation tools.
Electric Drill with Drill Bits
This will depend on the type of wall you want drill holes in such as steel drill, wood and masonry bits. Seek the help of a professional like TV Bracket SG in Singapore, if you are not sure of the drill bit you have. On the other hand, you can mount the TV brackets Singapore manually by creating the needed holes with a nail if you don't have an electric drill.
Dust Sheet
This is a big piece of cloth used in covering your furniture and floor when you are carrying out TV mounting in Singapore. Dust sheet is strongly recommended, even though it has no direct bearing on installing the TV wall mount. This cloth protects both your furniture and floor against dust and other dirt.
Extension Electrical Wire
You will need this particular tool if the area you want to drill cannot be reached by your drill. In spite of the distance, a number of people prefer making use of a long electrical cable to offer them flexibility and more freedom of movement when making holes for TV wall bracket in Singapore. Make sure the extension cable of your choice can accommodate the voltage requirements of the drill.
Pipe and Electric Cable Finders
This tool will help you identify or discover the pipes and cable needed for your TV mounting in Singapore so that you don't have to drill into them by chance.
A Screwdriver
You will need a Phillips head or standard round head screwdriver for your TV bracket Singapore installation, depending on the screws on your TV wall brackets in Singapore. Make use of a ratchet screwdriver if you can because it makes the work easier and faster. Furthermore, you can grip the TV bracket in place in the course of screwing it to the wall.
Conclusion
TV mounting with TV wall brackets is a fairly clean job in Singapore. However, you need the tools mentioned above to enhance the installation. It is recommended that you employ the service of TV Bracket SG Singapore for your TV wall mount needs if you don't have these tools or not familiar with them.
TV Bracket SG is an expert Singapore company in the area of universal TV Mounting and TV bracket Singapore. Check here for more of their services in Singapore.