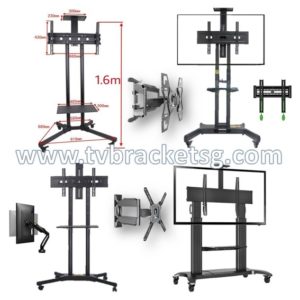 Have you just bought a new flat panel screen TV set and want to make sure it is well protected? Do you want to have the best viewing experience of your TV from any angle of your room in Singapore? TV bracket Singapore is the answer. With different options available with TVBracketSG, you can easily get the one that will match your television and offer you value for your investment.
There are swivel mounts, flat mounts, cantilever, tilting mounts, and motorised TV brackets Singapore.  Each of these television brackets has different functions and they are all VESA compliant.
If you live in a flat, you will need a TV bracket because you are not permitted to put holes in the wall for a TV mount. All you need is to buy the appropriate TV bracket to keep your TV set safe without having to poke holes in the wall.
Types of TV Bracket Singapore Provided by TVBracketSG
TVBracketSG is the best supplier of quality and durable TV brackets in Singapore. They have different types of brackets for any size of television in Singapore including the following:
Flat Mount – There is the X like type of mount with screw holes arranged in a square pattern. This particular design makes it pointless for any cable as each section between the X shapes will grip the cables. X like mount is available in silver or black colour.
The second type is designed for TV stands. This TV bracket Singapore comes with square panel with four screw holes. In addition, it has a stand that will fit inside a floor stand. It must be noted that you cannot adjust a flat mount to tilt the TV easily. Generally, you will have to place the TV set at a suitable eye level. As a result, if your TV is on the same level with your furniture, these TV brackets will work better.
The flat TV mounts are available in 15 to 23 inches, 26 to 32 inches, and 37 to 65 inches.
The Swivel TV Mounts – These are designed to provide flexibility for your TV with its swing arm. The swing arms of swivel TV mounts lets you move your television in different position within the room. The length of this TV bracket Singapore will decide how far you can turn your TV.
The Cantilever TV Brackets – This type of bracket has a long arm that is a bit stepped in appearance. There is an arm that moves and connects to another arm that can move in another way before the TV bracket. Cantilever TV bracket can position the TV farther from the wall than the swivel type of bracket. You can control it in more than one direction and stretch it out from the wall by putting the two arms in the same position.
Tilting Mounts – These TV stands are just precisely as they sound. With this type of TV bracket Singapore, there is an additional area that let you tilt your TV for great viewing. You can decide to opt for the universal mount or square mount that matches well for diverse TV sizes all in a TV bracket. All you need to do is to make a decision concerning how much you want your TV wall bracket tilt so that it can work effectively and serve its purpose.
If you are mounting a TV set higher than your furniture like the above a fireplace mantel, tilting bracket is your best choice. With the bracket, it is possible for you to tilt your TV set down for easier viewing.
The Motorised TV Brackets – These brackets will allow you to move your TV up, down, and side to side with ease. Motorised TV brackets Singapore can tilt or swivel in the way you want it without you having to get out of your chair. No wonder they are costlier than other options.
All the TV brackets discussed here are available with TVBracketSG Company, who are adjudged the best supplier of the all kinds of quality, ground-breaking and affordable TV brackets in Singapore.
If you want to buy television bracket from us, visit: https://www.tvbracketsg.com/contact-us/ or Call / SMS / Whatsapp : +65 9183 7250. You can also send an email to: enquiry.tvbracketsg@gmail.com