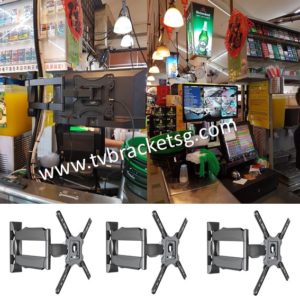 You just should not attempt a DIY TV bracket Singapore mounting, despite the fact that you may be good at mounting a television. This is because there are quite a lot of complications associated with TV wall mounting or installation. For example, you could mistakenly put your flat screen television in the wrong position.
A successful TV wall bracket installation requires experience and know-how of a professional. Interestingly, TV Bracket SG is a professional TV mounting service that will take care of all your installation needs in Singapore. They will also figure out the right place to mount your television to make sure the TV wall mount is safe. A TV mounting professional in Singapore will help you with proper cable arrangement, balance and placement.
Be rest assured that your TV is safe and mounted in the right place, when you allow TV Bracket SG to handle your wall TV bracket Singapore installation.
Reasons to Hire Expert TV Bracket Singapore Service for Your Installation
There are a few reasons to employ the service of an expert company like TV Bracket SG to mount your television. They will not just ensure the security of the TV, but also retain its integrity. On the other hand, they will offer you helpful information and professional advice on how to organise your furniture.
Another thing about hiring an expert for your TV bracket installation in Singapore is that they know the ideal TV bracket and size for your television. Professional TV mounting services are also equipped with the necessary TV wall mounting tools such as a power drill, television brackets Singapore, screwdrivers, a stud driver, and a level.
TV bracket SG will finish the TV mounting task efficiently and reliably. If you are a client on a tight schedule, we will get your job completed in a timely manner as we know that time is money. This is what makes us different from a lot of TV wall mounting freelancers in Singapore.
Final Word
Do you have TV wall mounting needs in Singapore? Look no further than TV Bracket in Singapore. Whether it is a private or commercial project, we will make a trip down to your premises do a site survey before giving you the best quote, bearing in mind that there are different quotes for different requirements.
TV Bracket SG is a trustworthy supplier of all kinds of universal TV Brackets, Gas Strut Desktop/Monitor Mounts, Gas Strut TV Mounts, TV Mobile Stands, TV Table Stands, Ceiling Mounts, Full Motion Double Arm Mounts, Full Motion Single Arm Mounts, Tilting Brackets, Fixed Brackets, TV Mounting services in Singapore and lots more.
Give us a try today and be part of the unique and breath-taking TV bracket Singapore experience!