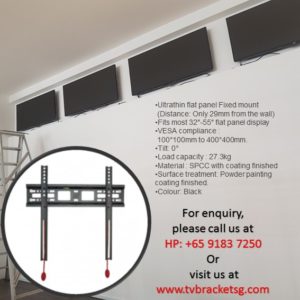 Are you looking for durable TV bracket Singapore and second to none TV mounting service in Singapore? TV Bracket SG is the answer.
With us, you are guaranteed that your flat screen television will be safely installed in your desired location. We are a professional company mounting good and quality TV brackets in Singapore because we have the required drilling tools and know-how. More importantly, when it comes to the safety issues you must know, we have the knowledge to advise you.
If you wish to mount your television high up the wall, we have the ladder to carry out the task. On the other hand, we have wire detection gadget for scanning the wall to detect concealed cables in order not to drill onto the live wires accidentally.
Should you Install or Mount TV Bracket Singapore Yourself?
TV wall bracket Singapore Installation or TV bracket mounting in Singapore is not a difficult task, provided that you understand the tips and tricks involved. It is possible for you to do all the installation of your TV brackets in Singapore all alone.
Take note of the following TV bracket Singapore installation tips if you are a hands-on person who wants to carry out the TV Installation all alone.
Make sure you have the essential TV wall bracket mounting equipment such as screwdriver, drill tools, nuts, bolts and screws.
Ensure there is no conceal cables at the position you are drilling.
As you will need to hold the TV bracket when tensing up the screws to the wall and install the television to the bracket, get somebody to help you in the course of the TV wall mount.
Let your television socket gets to the power point and the signal cable reach the television. If not, you will need the service of an electrician to build a fresh power point very close to the television set and lay wires to the TV in order for it to hook up to the antenna or signaling cable.
Other Services Provided by TV Bracket SG
Apart from TV bracket Singapore installation service, we supply all kinds of universal TV Brackets in Singapore, TV Floor Stands, and lots more.
Without kidding, no other supplier has a product line-up that contains so many different types of TV Brackets, Mounts and Stand in Singapore. Our product line-up includes:
(1) Fixed Brackets
(2) Tilting Brackets
(3) Full Motion Single Arm Mounts
(4) Full Motion Double Arm Mounts
(5) Ceiling Mounts
(6) TV Table Stands
(7) TV mobile Stands
(8) Gas Strut TV Mounts
(9) Gas Strut Desktop/Monitor Mounts