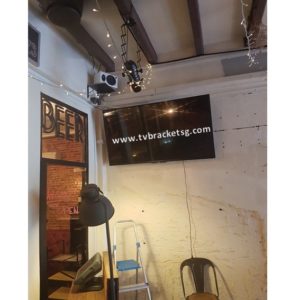 What is worth doing at all is worth doing well! Consequently, if you are thinking of buying TV bracket in Singapore, make sure you buy quality from a reputable and best supplier like TVBracketSG.
When you look at the amount you buy your new flat screen television set, you will be more particular about how to guide this valuable investment against accidental damage. It is important to wall mount your television with quality TV bracket in Singapore to offer ultimate viewing experience and prevent it against theft and unforeseen unfortunate circumstances.
Placing your TV on a quality and sturdy TV bracket in Singapore is like paying back for all the good times that your television has offered you. TV wall bracket is an essential accessory for you if you want to place your TV high up on the wall. These television brackets give enormous support and add to the atmosphere and character of your home décor.
Quality TV brackets are available with TVBracketSG in different models and types that will hold any TV model and brand, no matter the size and weight. They have all corresponding TV brackets in Singapore that will hold both the weight and size of any TV you buy.
It is noteworthy that TV wall mounts are must-have accessories for all modern homes, particularly people having the latest designs of TVs, which are the flat screens. Depending on the features, they come in different styles. With a lot of styles available with TVBracketSG, you will surely find the one that will meet your needs as far as functionality and aesthetic are concerned.
Among the types and styles of unique and quality TV wall mounts you can buy from TVBracketSG are tilt, swivel, flat, ceiling, and full motion. They are the best supplier of these products in Singapore. These TV wall brackets will just hang the TV flush on the wall. Quality and genuine TV bracket is a sure way to demonstrate elegance and add a modern look to your home.
With swivel TV bracket in Singapore, you can adjust the angle of your television screen and move it either to the left or right. The tilt types of television brackets are used for tilting the screen upwards or downwards.
On the other hand, the full motion TV wall bracket will allow you to rotate your TV in any direction for ultimate comfort and flexibility. In addition, you can use the ceiling TV wall bracket Singapore to mount your TV on the ceiling comfortably and offer absolute new viewing experience to all the viewers. All the TV brackets from TVBracketSG, no matter the type are sturdy enough and offer the required support to your TV and guarantee utmost protection of your investment. Moreover, the television will be high enough to prevent people from stealing it.
Do you want to protect your newly purchased television? Quality TV bracket is the answer. Why not visit https://www.tvbracketsg.com or contact us today at https://www.tvbracketsg.com/contact-us/ for your Quality and strong TV bracket in Singapore.