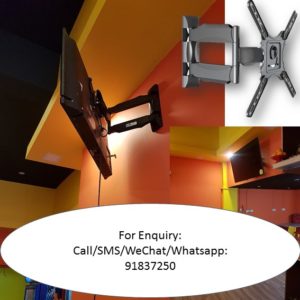 It appears to be no limit to the innovation and improvement services offered by TVBracketSG Singapore as far as supplies and installation of TV brackets, TV floor stands, Fixed Bracket, Tilting Bracket, Full Motion TV Mount and lots more are concerned. In addition to these services, we will also install your ceiling TV bracket Singapore to your satisfaction.
Ceiling TV brackets Singapore can be a great way to mount your television because it appeals to individuals and a group. Ceiling TV wall bracket appears to be a more personal item that will allow you to watch your much loved TV programmes while lying on your bed. Quite a number of people even tend to fall asleep in the course of watching TV. Therefore, people are now watching TV in their bedrooms to address this issue. From the look of things, it is convenient to watch TV while in bed relaxing.
Ceiling TV brackets Singapore feature long arms that will let you watch your television at your eye level. More importantly, TV bracket Singapore is easy to install. Do not rely on the ceiling of your home to hold the weight of your TV. Just like fixing TV wall brackets to a wall, you need to locate a beam or joist that can be used to screw the brackets onto the ceiling.
To find the joist, you can make use of the stud finder. Keep moving the stud finder if the joist is not in the location you want until you find joist in a suitable place.
You don't need to worry about your viewing enjoyment because the long arm located on the TV bracket Singapore will make sure that the TV is set to your desired location. Unscrew the holding screws to detach the arm of the ceiling TV wall bracket. Moreover, this will make the TV brackets lighter and simpler to hold.
In addition, removing the arm will allow you to mount one end at the ceiling and fix the other end to the television later. Insert the end of the mounting plate at point you have marked on the ceiling. Use lag bolts that come with your ceiling bracket to fix the mounting plate by putting them through the mounting holes on the bracket. Make sure the back of your television set and mounting plates and in conformity to VESA requirements.
On the other hand, check the VESA spacing measurement to make sure it matches the holes at the back of your TV set, before you finally mount your television on the ceiling TV bracket. Make sure all the screws and bolts are secured tightly before leaving the mounted TV.
TVBracketSG doesn't just sell ceiling TV brackets in Singapore. We are also available to mount your ceiling TV bracket Singapore for you in a professional way.
We are the best suppliers of all kinds of universal ceiling TV brackets in Singapore. Whether you want to buy TV stand or want to install your ceiling TV wall mount, we are capable. We work with expert installer who will get your television in a perfect position that will give you perfect viewing experience.
What are you still waiting for? Visit us at https://www.tvbracketsg.com/product-and-services today to find out more about our products and services! You can also contact us at https://www.tvbracketsg.com/contact-us/ if you have any query. We will be glad to help you!