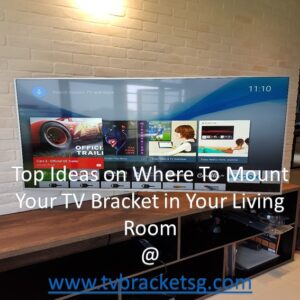 Not so far in the past, TVs were really huge and usually took too much space; we've evolved from all that now, thankfully. These days, TVs are slim and sleek and are a great addition to your home. Given their space efficiency, modern TVs can be installed in your home convenience apart from your living room and bedroom.
Now you can get creative on where to mount your TV to add a bit of spice to your living room décor. The top considerations when you're looking to mount a TV is usually finding a functional spot and also finding the spot where it perfectly blends in with your room décor.
To help you along, below are top ideas of where you can mount your TV and have it fit in seamlessly with your living room décor.
Mount it Above the Fireplace
That sounds weird! The wary homeowners may want to wave this idea off. After all, there are mixed feelings about this particular idea; many people are simply scared about having their TV above the fireplace.
But this idea does have its merits like the fact that your TV and your Fireplace are in the same place and therefore, makes it easy to arrange the furniture without having to go around the two. Our fixed mount is sure to hold your TV tightly in place if you're scared about that.
Beside the Fireplace
Another idea for those who are wary about placing the TV above their fireplace can just be to choose to place it beside the fireplace. That isn't as scaring as the above-the-fireplace idea, right? This is like the first option, and you get to enjoy both the TV and your fireplace without necessarily having to worry about arranging the furniture around it. The TV table stand can help you achieve an amazing look right next to your fireplace.
Mount it Up in A Corner
I simply love this idea; many people don't usually consider the corner when mounting their TV, but it is a great idea nevertheless. Many homes are designed so many artworks that you hardly find a space in the living room to mount a relatively large TV that suits the place.
If the scenario applies to you that don't have enough wall space because of all the other architectural features, then you should really consider the corner for your TV. Don't be anxious about whether the TV will be hidden for viewers. With our Tilting Mount, you can tilt your TV to your convenience from the corner.
Mount-It Upon A Dark Wall
We can all agree that dark walls are really dramatic; it is also always a classic shade, and it makes your TV pop out in a sophisticated manner. You don't have to go for black to achieve a dark wall; you can choose dark shades of colors that blend well with other colors in your living room space. This way, you will enjoy a mix of beauty and sophistication. You're wondering how this will happen? Try one of our TV accessories. With our Full motion double-arm mount, you really couldn't get any more sophisticated.
Mix the Modern with the Traditional
There is nothing more aesthetic than having a blend of classic look with modern style. It is super matching. If you still choose to go with the traditional mounting style on your TV, you can use the TV table stand for your TV mounting and then add some modern touches around the TV like wingback chairs, nice prints, throw pillows others.
Whatever Style You Choose, We've Got You Covered!
Hopefully, these ideas can give you inspiration on how to decorate your living room and also mount your TV in Singapore. Whatever idea you end up going with, we have the right TV bracket for you, and even better, we can help you mount it up.
Our TV brackets in Singapore are affordable, durable, lightweight, yet sturdy. They are also known for being stylish and safe. Whatever after-sales service you need, we've got you covered. The Asian market appreciates the power of our best TV brackets and mounts across the length and breadth of Singapore.