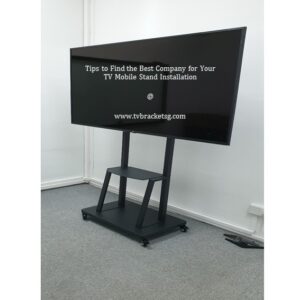 Everyone loves walking into a living room with a very appealing couch and a very large fine screen. The thought of picking up the remote and sinking into the couch to enjoy watching the TV cannot be defeated. However, this thought can never be a reality if your TV is still sitting in a corner of your living room. You must be tired of being restricted to one sitting position because you want to watch the TV. This is why you need a TV mobile stand installation.
The benefit of having your TV on the wall cannot be overemphasized.  First, your TV is safe from quick destruction, safe for kids to be in your home and it makes your living room very presentable. To achieve a TV mobile stand installation, you might just need a TV bracket or a company like TV bracket in Singapore. TV brackets are those metals that you hang your TV on. Now, some TVs come with these brackets which are fine. But if you want to enjoy your TV with flexibility, that TV bracket may not be enough. There are varieties of TV brackets; you can get any type from TV bracket in Singapore.
Now, once you have gotten your TV bracket, you can choose to do your TV installation yourself or hire a company that can do the installation professionally. It is fine if you choose to do the installation yourself, but to ensure that it is properly done, it is advised that you hire a company.
It would be a tragedy to have your beautiful HDTV crash into the floor after you did a lot of job screwing it into the wall like the manual said you should. It is even sadder when you pay a freelancer who promised that he knew what he was doing but your wall and your TV gets spoilt. To avoid all these stress, here are some tips to help you find the best company for your TV installation.
How to Find the Best Company for Your TV Mobile Stand Installation
It is always a wise option to hire a company. Companies have professionals that will handle your property with care. They do not just put your TV anywhere as an unprofessional freelancer would. As a professional, insights to help you find the perfect spot for your TV are offered. They consider the lighting of your room and the shape of your living room. You possibly did not know that the arrangement of your furniture goes a long way to the location of your TV. This is why companies like TV bracket in Singapore are a great option to consider if you want a perfect installation.
However, you should look out for these tips when you want to hire a TV installation company.
Accurate Scheduling
A good company should be able to work with your schedule. They should be able to come to your aid as soon as you need them. Imagine you have a match to watch or even a romantic date in a few hours but you need your TV installed. You should reach the company that will come to your aid come rain, come sunshine. At TV bracket in Singapore, accuracy is guaranteed. They come to your aid as soon as you call.
It would be a disappointment to hire a company and end up with a terrible installation. Beware of unprofessional freelancers that claim to be a company or under a company. TV bracket in Singapore is a trusted company, so put your mind at rest and put a call through. They give consultancy in addition to the service we provide.
Pricing
People run away from hiring a company because they are scared that they charge high. They believe that if they go through the stress of trying to hire a company, the prices will make them regret their actions. However, this is just a paranoid feeling, hiring professionals is quite affordable. This is why one of the best companies, TV bracket in Singapore, is very affordable.
Conclusion
If you love your amazing smart TV, you should give it the care it deserves. It might sound funny but there are many cases of people losing their TVs to small accidents and unprofessional installation. You should not take these expensive chances, hire a trustworthy company today. TV bracket in Singapore is a trusted company that has been in business for 6 amazing years. What can the best professionalism and experience? This company also has friendly customer service, so that you can be comfortable with the service provided.